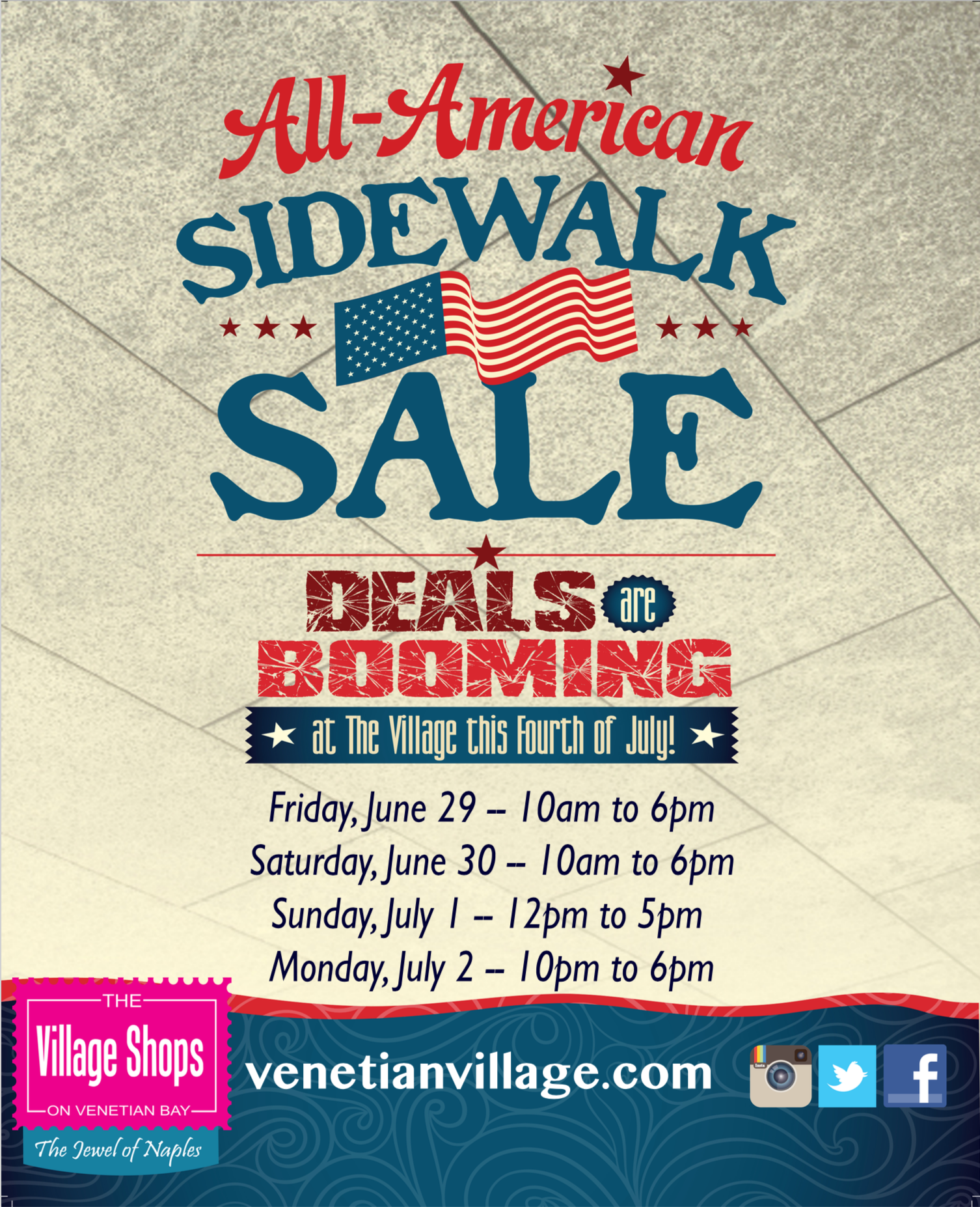 All-American Sidewalk Sale at The Village Shops!
Summer is here, which means great savings at The Village Shops on Venetian Bay! Are you looking for fashionable red, white, and blue attire for a 4thof July BBQ or the perfect outfits for your summer social calendar? Head on over to the All-American Sidewalk Sale Friday, June 29 through Monday, July 2 to enjoy a weekend filled with great savings and waterfront views.
Everything you need for a fun-filled day of shopping is right here at The Village Shops. Start your morning out right with a coffee and crepe from Le Petit French Café. When looking for that midday pick-me-up, stop in Naples' only Ben & Jerry's for an ice cream cone, the best way to cool down on a summer day. Be sure to also make lunch and dinner reservations at one of our six sparkling waterfront restaurants to refuel after a successful day of shopping. Only at The Village Shops can you browse through the many tables of high-end designer brands all while taking in the breathtaking view of the Venetian Bay.
This year's participating retailers are A Horse of a Different Color, All About April, The B. Store, Chico's, DanaTyler, Diane's Fine Fashions, Fabec-Young & Co., H.T. Chittum & Co., J.McLaughlin, J&K Collections, Lux Boutique, Mondo Uomo, Panache, Patchington, Pratt's Shoe Salon, Sara Campbell, Simply Natural, Whispers of Naples, and Wildflower.
Come out and treat yourself to a beautiful day at The Village Shops' All-American Sidewalk Sale.