Another Fun & Festive Holiday on the Bay at The Village Shops!
It was a very busy Holiday on the Bay this past Saturday, December 8th. Families dressed in their holiday best gathered to enjoy Village entertainment and visit with Santa and Mrs. Claus before they head back to the North Pole.
The Dickens Carolers took the stage at 5pm with a crowd instantly surrounding. The carolers were taking guest's requests all evening, as the crowd sang along to their favorite songs.
The sound of the carols traveled to the Santa Claus line, where families were waiting to take their complimentary printed and emailed photos with the man in the big red suit! Santa shared a special moment with each child reviewing Christmas lists and handing out candy canes for all to enjoy. After visits with Santa, families were admiring their new memento to remember a festive day by the Bay.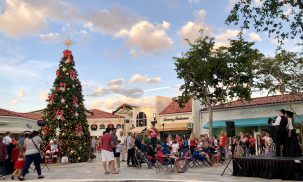 The Kowiachobee Animal Preserve table was a head turner as many guests were amazed to see the friendly reptiles crawling and slithering around. Children took turns petting and taking photos with the snakes and alligator.
At 6pm, Backstage Dance Academy took the stage. The dancers of all ages filled the stage with a sea of reindeer shirts, performing several dance numbers. The audience continued to grow, clapping, snapping, and singing along to the favorite holiday jingles.
At 7pm, it began to snow in Naples' North Pole and within minutes, the snowfall was covering the ground. Naples' tallest Christmas tree was a sight to see glowing with thousands of light and covered with snowflakes.
Holiday On The Bay Upcoming Dates:
Saturday, December 15 | 5 p.m. to 8 p.m.
Saturday, December 22 | 5 p.m. to 8 p.m.
Sunday, December 23 | 3 p.m. to 5 p.m.
Monday, December 24 | 2 p.m. to 5 p.m.
14 shopping days until Christmas!! Visit your favorite retailers to finish shopping for everyone on your list!