Black Letter Coffee + Café
(Formerly Known as Le Petit French Café)
Exciting Changes Grounded in Exceptional Quality!
Black Letter Coffee + Café, formerly known as Le Petit French Café, is excited to announce a brand refresh. Along with the new name, you'll find a new logo, website, refreshed café interior, and exciting new menu items.
Black Letter Coffee + Café is a family-owned and -operated business located at The Village Shops on Venetian Bay. The café is building on its solid foundation of chef-inspired dishes and locally sourced ingredients, expanding its menu of delectable food and beverages.
Professionally trained chef Tyler Haskin is the brains behind the revamped food menu, which offers sweet and savory crepes, pastries, and carefully handcrafted breakfast and lunch sandwiches and salads. The café's new menu is sure to still have many of your favorites, along with exciting new offerings to upgrade your morning breakfast or afternoon lunch at The Village Shops, including their must-try antipasto plates!
Check out the new menu here: https://blacklettercoffeecafe.com/menu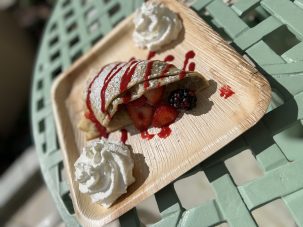 The Haskin Family has also elevated the coffee experience by bringing in their artisan coffee brand, 3 Arrows Coffee Company. After carefully fine-tuning the roasting process over several years, the Haskin family is proud to offer 3 Arrows premium coffee beverages at Black Letter Coffee + Café, as well as offering bags of freshly roasted, luxurious beans to bring home to brew in your kitchen! Be ready to experience the indulgence of small-batch, premium roasted coffee beans in your everyday life.
Black Letter Coffee + Café is operating seven days a week, 8:00am-3:00pm. The Café can be found on the north side of The Village in suite 506. For more information, visit their website https://blacklettercoffeecafe.com, Facebook (@Black Letter Coffee Cafe) and Instagram (black_letter_coffee_cafe), The café can be reached by calling 239-280-0438.