Brighten Your Day and Wardrobe at the b. store!
Upon entering the b. store, the letter "b" is immediately given meaning! Breathtaking, bold, brilliant, bright, and beautiful are just some of the many adjectives that can be used to describe the clothing and accessories that consume the racks. "Bay" should also be thrown into the mix, since guests are given the pleasure of shopping amongst the breathtaking views of the Venetian Bay!
The b. store brings the brightest women's apparel and accessories to The Village Shops. With carefully curated warm weather collections, such as dresses, skirts, rompers, jumpsuits, lightweight tops, and more, the b. store has everything a Naples fashionista needs to conquer her social calendar.
The b. store is proud to keep up with the latest and greatest fashion trends by carrying a limited quantity of each selection, allowing for frequent style changes. The b. store's frequent fashionistas know that new and exciting pieces stock the shelves each week.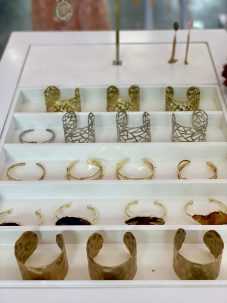 The b. store also carries a stunning and *sparkling* selection of formal gowns to have you confidently walking the runway at any Naples gala, prom, or formal event. Try them on in store, and with the natural light shinning off the water and onto the dresses, you'll see just how show stopping each gown truly is!
Let the fashionable stylists assist you with finding that perfect piece that will add color into your wardrobe. The b. store located on the south side of The Village Shops in suite 4250. For additional information, call the store at 239-263-9004.