Celebrate National Dog Day at The Village Shops!
Today, August 26th, is National Dog Day! What better way is there to spend dog day than at The Village Shops?  The Village Shops is an open-air and pet friendly venue allowing your favorite four-legged friend to join along for an un-fur-gettable day of shopping and dining on the Bay!
To keep up with your pup, the first stop is coffee! Le Petit French Café has a cup of joe on the go if your pup is looking to roam, or order a coffee and one of Naples' best crepes to enjoy while relaxing at the outside seating with your dog by your side.
With the caffeine kicking in, it is the perfect time to walk around and enjoy the scenery. The Village Shops has a number of walkways that dogs and their owners use daily. Each day walkers and their tail wagging pets enjoy walks beside the water, from shop to shop, and along Park Shore Drive and Gulfshore Boulevard, each pathway equally breathtaking in regards to sights to be seen and views of the water.
There is also a number of hydration stations all around The Village Shops. Look for decorative dog bowls outside of stores and restaurants on both the north and south side of The Village Shops to help keep your dog hydrated in this summer heat or even take your dog for a cool down splash through the fountains. No need to stress, The Village Shops also has you covered with doggy relief stations, which can be found on the north and south side of The Village neighboring Gulfshore Blvd., which have plastic bags and a handy disposal area.
Trying to decide on lunch or dinner plans? Dining with your dog is even more fun at The Village! The Village Shops has six sparkling waterfront restaurants to choose from with dog-friendly patios to sit at and enjoy delectable dining and extraordinary views of the Venetian Bay. Dogs make the best lunch and dinner dates!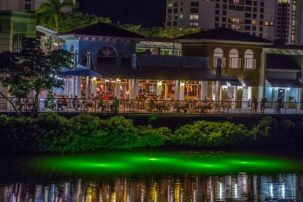 Bring your pup to play at The Village Shops! The Village Shops on Venetian Bay is located at 4200 Gulf Shore Blvd North Naples, Florida 34103 and can be reached by calling 239-261-6100.