Celebrate National Happy Hour Day at The Village Shops!
Today, November 12th, is National Happy Hour Day! What better way to celebrate than at one of The Village Shops' six sparkling waterfront restaurants with great deals on appetizers and cocktails. Grab your girlfriends, significant other, or co-workers and head to The Village for dining, drinks, and unforgettable views!
Bayside Seafood Grill & Bar offers something for everyone, with two full bars, casual dining at the first-floor Café, a sophisticated second-floor Grill, an Upper Deck overlooking the Bay, and elegant private dining in their Vintner's Room located inside Sukie's Wine Shop. Each dining location has its own menu and anextensive wine and crafted cocktail list.
In addition to the fabulous food, drinks, and ambience, Bayside Seafood Grill & Bar also brings the restaurant to life with live music Monday through Saturday nights and Sunday afternoons and nights. Make your reservation today at 239-649-5552. Bayside is located on the south side of The Village in suite 4270.
Fish Restaurant has happy hour from 3:00-6:00pm daily in their bar and lounge area. Guests can enjoy half price wells, house wines by the glass, and domestic beers. Also be sure to browse the $6 bar menu including firecracker shrimp, cod sliders, mini burgers, and clams casino!
At Fish, guests enjoy a meal prepared to the highest quality, display, and taste, while taking in the relaxing ambience. Fish Restaurant is located on the north side of The Village Shops in suite 304. Make your happy hour reservations today by calling 239-263-3474.
MiraMare Ristorante has happy hour from 3:00pm-6:00pm everyday. Their happy hour menu includes beer and house wine, $6 pizzeta, and a special small plates menu at the bar with all of the delicious Italian favorites.
In addition to the art of taste and presentation, MiraMare understands the importance of having the perfect wine pairing. They have an extensive wine list with a glass to compliment every dish on the menu. Make your reservation today by calling 239-430-6273. MiraMare is located on the south side of the Village Shops in suite 4236.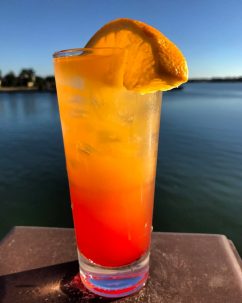 M Waterfront Grille's casual, yet sophisticated, M Lounge provides the perfect setting for dining and cocktails. Happy Hour is everyday from 4:00-6:00pm with unbeatable deals including 50% off house wines or house liquors, 25% off entire lounge menu, $2 off all beers, $3 off call, top shelf & premium cocktails, and $4 off premium wines. The Lounge menu consists of appetizers, salads, and all the favorite comfort foods!
Make your reservations by calling 239-263-4421. M Waterfront Grille is located on the north side of The Village Shops in suite 104.
T-Michaels Steak & Lobster House's happy hour is everyday from 4:00-6:30pm. The Lounge is a well-known gathering place for locals year round and seasonal visitors to enjoy happy hour and dining. Enjoy a special happy hour menu any day of the week with daily specials.
Call to make your reservation at 239-261-0622 or stop by suite 4050 on the south side of The Village Shops for a one-of-a-kind dining experience.
The Village Pub has a number of beers on tap and bottled, white and red wines by the glass/bottle, and more!Grab a menu and find the meal to compliment your drink of choice. "Todays Catch" is always a popular option with the freshest seafood served on a sandwich, salad, or prepared on a platter. Enjoy additional options of seafood, sandwiches, salads, and the famous "Pub Stuff" section of the menu.
The Village Pub of Naples is located at the north side of The Village Shops in suite 606. Call 239-262-2707 with any questions or to make a reservation.