Come Explore Outdoors at The Village Shops!
How can you pass up a trip to spend the day on the Bay at The Village Shops? The Village's open-air venue in the heart of Naples is a site to see with more waterfront shopping and dining than any other destination in Naples and of course views you just can't refuse! Whether you're a local dining at your favorite waterfront hot spot or a tourist looking for ambiance, entertainment, and one-of-a-kind shopping, there is something for everyone, with 40+ unique boutiques, six sparkling waterfront restaurants, Naples' best crepes at Le Petit French Café, and the tastiest cool down treats at Naples' only Ben & Jerry's.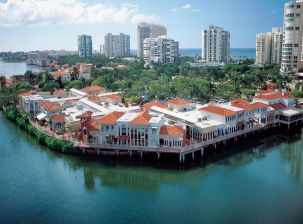 When dining on the emerald waters of the Venetian Bay, at any of the six sparkling waterfront restaurants, expect nothing but plated perfection and panoramic views. The same goes for shopping…enjoy exceptional views while strolling from shop to shop and even while browsing the racks of designer products inside the boutiques. While you explore the outdoors at The Village, also be sure be on the lookout because at any given moment you'll want to pull out your camera and snap a picture of the frequently visiting dolphins at play in the Bay.
The Village Shops gives ambience, serenity, and breathtaking beauty a whole new meaning. Come see for yourself why The Village has been awarded each year with the titles of best Waterfront Dining, Restaurant with a View, Romantic Dining, Shopping Experience by Naples Daily News' "Best of Naples" contest.
Don't stay cooped up inside. Hop in the car and go for a ride to shop, dine, and explore along the waterside! The Village Shops on Venetian Bay is located at 4200 Gulf Shore Blvd North Naples, Florida 34103 and can be reached by calling 239-261-6100.