Dessert Day on the Bay is an Absolute Must!
Now is the time to throw out that crazy idea that dinner must be eaten before dessert. Trust us when we say, eat dessert first! Better yet, skip breakfast, lunch, and dinner all together and spend a whole day on the Bay eating nothing but dessert. The Village Shops has eight (yes, you heard us right, eight!) decadent and downright delicious dessert stops to make for the ultimate dessert day on the Bay!
When it comes to dessert at The Village Shops, there is no particular order you must go in because we can honestly say all will impress. Here we go…let's dive into desserts!
First stop, Le Petite French Café. We will call these the "breakfast desserts"! Chocolate croissants, Nutella croissants, banana & Nutella crepes, peanut butter & jelly crepes, pastries, six milkshake flavor options, mocha coffee…and the list goes on. Le Petit French Café gives the term "Breakfast of Champions" a whole new meaning. Jumpstart your dessert day at Le Petit, located on the north side of The Village Shops in suite 506. Call 239-280-0438 for more information.
Step out of Le Petit French Café and walk a few steps down the walkway to The Village Pub in suite 606. First and foremost, make sure you get a table outside alongside the sparkling Venetian Bay. Once you get that waterfront table, flip straight to the dessert section of the menu. The Chunky Chocolate Walnut Brownie has your name written all over it. Warm brownie drizzled with caramel sauce and sprinkled with walnuts, topped with vanilla bean ice cream. Call 239-262-2707 to reserve a table by the water.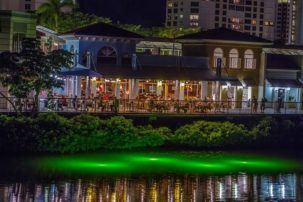 Keep the dessert marathon moving with a stop at Fish Restaurant. Which will you choose…cheesecake, apple pie, or chocolate cake? As the pictures show, you can't go wrong with any of those options so hurry up and head on over to Fish, located on the north side of The Village in suite 304. Call 239-263-3474 to reserve your waterfront table or for more dessert information.
Once you leave Fish Restaurant, take the scenic route by the water to M Waterfront Grille, located on the north side of The Village Shops in suite 104. When it comes to M dessert, all we have to say is step aside Krispy Kreme! M Waterfront Grille has doughnuts and holes that you doughnut want to miss out on! Sprinkled with cinnamon and paired with a side of icing, simply mouthwatering, as well as their additional options of key lime pie and chocolate cobbler. Call 239-263-4421 for more information.
The vanilla bean ice cream served over the warm brownie at The Village Pub gave you a taste of cool, delicious ice cream but is there such thing as too much ice cream on a dessert day? The answer is No! Time for a stop at Naples' only Ben & Jerry's, located just a step outside the door of M Waterfront Grille in suite 212. We are going to rattle off a few flavors to show you why a dessert day would not be complete without Ben & Jerry's…Cherry Garcia, Chocolate Therapy, Salted Caramel Blondie, Strawberry Cheesecake. Enough said, everyone is screaming for ice cream and rushing to the Village scoop shop. Call 239-434-5850 for more flavor information.
A walk over to the south side of The Village Shops is just what you need now to help open up some room in the dessert stomach to continue to conquer. Up next, MiraMare Ristorante on the south side of The Village in suite 4236. MiraMare is all about the Dolci options – Tiramisu, Crema Catalana, Cheesecake, Cannolis, Chocolate Cake, Limoncello, and Chocolate Mousse. MiraMare Ristorante also offers gelati and sorbetti and a number of signature martini desserts. Yum! Your waterfront table is one call away, 239-430-6273.
Although you feel like you've been teleported to Italy, you're still at The Village Shops so step out of MiraMare and walk a few feet to Bayside Seafood Grill & Bar, located in suite 4270. Upstairs, downstairs, inside, outside, pick your spot so you can begin picking your dessert choice. Bayside has their famous key lime tart, banana bread pudding, chocolate cake, and more. All equally mouthwatering! Call 239-649-5552 to reserve your spot to dine-in for dessert.
Last, but certainly not least is T-Michaels Steak & Lobster House, located on the south side of The Village Shops in suite 4050. We know you saved room for one (or all) of T-Michael's dessert options including their apple crisp pie, cheesecake, carrot cake, and more! Pair your dessert with a glass of wine to reward yourself on a job well done. T-Michaels has an ever-evolving wine list to perfectly pair with any dessert choice. Learn more about T-Michaels full dessert and wine menus by calling 239-261-0622.