Dine by the Water at The Village Shops!
When dining with family and friends, options are key to ensure that there is something for everyone. The Village Shops knows this importance and offers a restaurant for every culinary delight – contemporary, seafood, Italian, and more! Regardless of which restaurant you choose, you will be greeted with a menu full of endless options of appetizers, entrées, sides, cocktails, and desserts.
Another great option when dining at The Village is the option of which waterfront views you will choose, because water is served with every meal! Whether inside, outside, upstairs, or downstairs, sit right alongside the water. Any given dining experience at The Village could include views of the sun sparkling off the water, the sun setting on the horizon, dolphins jumping and splashing, fish swimming through the green lights, boaters giving a friendly water wave, paddle boarders and kayakers breezing by, and a number of other scenarios. No matter the day, there is always excitement on the Bay!
Your waterfront table awaits. View the menu for each Village restaurant from the below websites, make your reservation, and bon appétit!
Bayside Seafood Grill & Bar
Ben & Jerry's Ice Cream
Fish Restaurant
Le Petit French Café
MiraMare Ristorante
M Waterfront Grille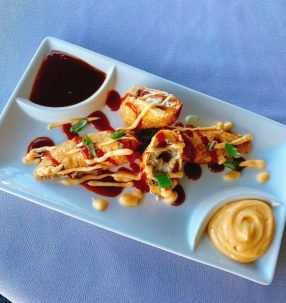 The Village Pub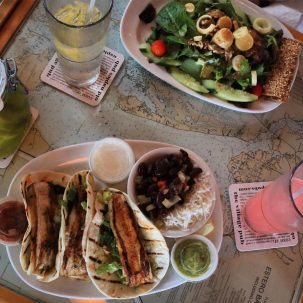 T-Michaels Steak & Lobster