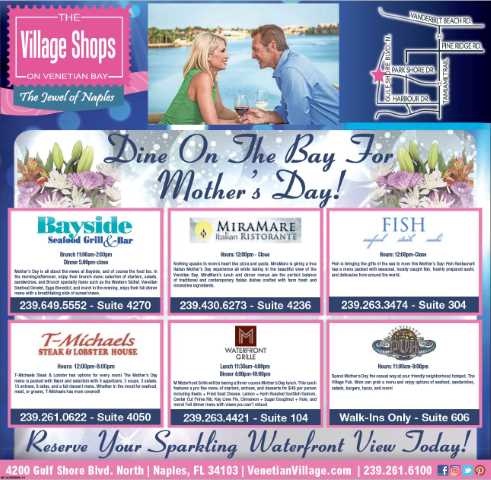 Dine on the Bay for Mother's Day!
May is here and we bet you're thinking of Mom and most likely Googling "Mother's Day Dining in Naples". The search is over! Close that website browser and dial the number of your favorite Village restaurant to reserve a table to spend Mother's Day on the Bay. At The Village Shops, you can treat your one-of-a-kind mom to a one-of-a-kind brunch, lunch, or dinner at any of the six Village restaurants featuring waterfront views you just can't refuse and a multi-course meal of plated perfection!
Bayside Seafood Grill & Bar
Mother's Day is all about the views at Bayside Seafood Grill & Bar, and of course the food too. Enjoy brunch from 11:00am-2:00pm or dinner from 5:00pm-close this Mother's Day from one of Bayside's many dining locations – The Grill, The Café, or the Upper Deck.
The Bayside Brunch menu has a full selection of starters, salads, sandwiches, and specialty items. The specialty items give the true tastes of brunch including the Western Skillet, Venetian Seafood Omelet, Eggs Benedict, Quiche of the Day, Grand Marnier French Toast, and more! Bayside's dinner is equally as tasty offering the best of the best when it comes to seafood, steaks, specialty pasta dishes, and salads.
Fish Restaurant
Fish is bringing the gifts of the sea to mom this Mother's Day! Open from 11:30am-2:45pm for lunch and 5:00pm-9:00pm for dinner, Fish Restaurant has a menu packed with seasonal, locally caught fish, freshly prepared sushi, and delicacies from around the world.
You'll flip open the menu to see that Fish has lunch and dinner selections full of appetizers, soups, salads, a raw bar, entrees, sushi rolls, sushi & sashimi platters, and small plates. If your mom is a true firecracker, there's a roll named after her to try along with dozens of other sushi roll options for the whole family!
MiraMare Ristorante
Nothing speaks to the mom's heart like pizza and pasta. MiraMare is giving a true Italian Mother's Day experience all while taking in the beautiful view of the Venetian Bay. MiraMare's lunch and dinner menus are the perfect balance of traditional and contemporary Italian dishes crafted with farm fresh and innovative ingredients.
Taste and presentation are of utmost importance, which is evident when tasting the made-from-scratch pastas such as the Fettuccini alla Bolognese and Pappardelle al Telefono, pizza pies, and the delectable seafood and meat dishes.
M Waterfront Grille
M Waterfront Grille will be having a Mother's Day lunch from 11:30am to 4:00pm. This three-course lunch features a pre fixe menu of starters, entrees, and desserts for $49 per person. What three courses will you choose with starters of New England Clam Chowder, Organic Caesar Salad, and Beets + Fried Goat Cheese and Entrees of Lemon + Herb Roasted Scottish Salmon, Amaretto Honey Glazed Ham, and Center Cut Prime Rib all served with whipped potatoes + spring asparagus.
Don't forget about dessert, with M Waterfront Grille's dessert menu consisting of Key Lime Pie with raspberry, white chocolate, and almonds and Cinnamon + Sugar Doughnut + Hole with a side of coconut cream cheese!
T-Michaels Steak & Lobster
T-Michaels Steak & Lobster has options for every mom, serving dinner from 12:00pm-8:00pm. The Mother's Day menu is packed with flavor and options with 5 appetizers, 2 soups, 3 salads, 13 entrees, 8 sides, and a full dessert menu.
Whether mom is in the mood for seafood (selecting from their options of Shrimp Sambal, Lobster Bisque, Chilean Miso Sea Bass, Black Grouper, the Seafood Trio, and more!), meat (Filet Mignon, Bone-in Ribeye, NY Strip Steak, Slow Cooked Prime Rib of Beef), or the greens salad choices, T-Michaels has mom covered! Mom can also "wine down" with a bottle from T-Michaels' ever-evolving wine list featuring bottles from around the globe.
The Village Pub
Spend Mother's Day the casual way at your friendly neighborhood hotspot, The Village Pub, open from 11:00am-9:00pm. Mom can grab a menu and enjoy options of seafood, sandwiches, salads, burgers, tacos, and more!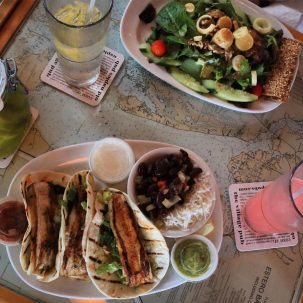 Appetizers and entrees aside, a mom as great as yours deserves dessert! The Village Pub is sure to please with their Chunky Chocolate Walnut Brownie (a warm brownie drizzled with caramel sauce and sprinkled with walnuts, topped with vanilla bean ice cream), Key Lime Pie (a sweet and creamy local tradition served with whipped cream), or the Fruits of the Forest Pie (homestyle pie made with strawberries, apples, raspberries, blackberries, and rhubarb with vanilla bean ice cream).