Dine on the Bay for Valentine's Day!
Valentine's Day is one of the most popular dining days of the year with restaurant reservations flooding in as guests prepare for evening dinner dates! With Valentine's Day almost underway, The Village Shops restaurants are gearing up with specialized menus, signature entrees, bold wines, rich, chocolate-filled desserts, champagne toasts, great company, and of course the unbeatable Venetian Bay backdrop. With that said, pick up the phone and make your reservation today to spend Valentine's Day on the Bay!
Bayside Seafood Grill & Bar
239-649-5552, South Village suite 4270
Valentine's Day is all about the views at Bayside Seafood Grill & Bar, and of course the food too. Enjoy lunch or dinner at one of Bayside's many dining locations – The Grill, The Café, or the Upper Deck – enjoying the best of the best when it comes to seafood, steaks, specialty pasta dishes, and salads.
Fish Restaurant
239-263-3474, North Village suite 304
Fish is bringing the gifts of the sea to you this Valentine's Day with appetizers of tuna tartar, crab cakes, and a shrimp cocktail, soups, salads, main course options of nero, red snapper, twin lobster tails, and the ever-popular sushi roll specials. Be sure to save room for a slice of their hazelnut chocolate cake or key lime cheesecake.
M Waterfront Grille
239-263-4421, North Village suite 104
M Waterfront Grille is serving their regular dinner menu offering only the freshest seafood, most flavorful steaks, and homemade pastas paired with bubbly champagne for a Valentine's Day toast. You and your Valentine are destined for a one-of-a-kind experience that will wake your taste buds!
MiraMare Ristorante
239-430-6273, South Village suite 4236
MiraMare is giving a true Italian Valentine's Day experience all while taking in the beautiful view of the Venetian Bay. MiraMare's Valentine's Day dinner menu is the perfect balance of appetizers, salads, and entrees which include pasta dishes, filet mignon, salmon, branzino, lamb chops, and more!
The Village Pub
Walk-ins only, North Village suite 606
Spend Cupid's Day the casual way at your friendly neighborhood hotspot, The Village Pub! Enjoy options of seafood, sandwiches, salads, and the famous "Pub Stuff" section of the menu. You and your Valentine are guaranteed to find a personal favorite dish and a pint on tap to compliment it.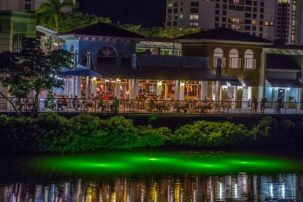 T-Michaels Steak & Lobster
239-261-0622, South Village suite 4050
T-Michaels Steak & Lobster is making Valentine's Day a full weekend celebration featuring a menu packed with 10 starters, 10 entrees, 8 sides, and the full dessert menu. That's not all, T-Michaels is also offering the "Valentine's Delight" special plating a 6oz filet mignon, 4oz King Crab, asparagus, and bearnaise sauce as well as the Holiday Champagne Special featuring Veuve Cliquot, Bollinger, G.H. Mumm, Charles Heidsieck, and Dom Perignon.