Dine Surrounded by the Sunshine at The Village Shops!
With every meal enjoyed at The Village Shops you're almost always guaranteed a side of sunshine! Whether it is an afternoon lunch, evening dinner, Friday Happy Hour, or Sunday Brunch, Village guests can expect to gather indoor or outdoor surrounded by Naples sunshine. Every meal is also accompanied by good times, 5-star food, unbeatable ambience, friendly service, endless menu options, and so much more!
Where will you choose to make a reservation to dine all while basking in the sunshine? Keep scrolling for information on each of The Village Shops restaurants and to help decide where to book your reservation.
Bayside Seafood Grill & Bar 
Bayside is one of Naples most beloved waterfront restaurants and a staple to The Village Shops for more than 30 years! Their menu offers the freshest seafood, steaks, specialty pasta dishes, salads, creative cocktails, decadent desserts, and more.
As if that's not enough, wine lovers rejoice at Sukie's Wine Shop, located off the front entrance of Bayside Seafood Grill & Bar. Sukie's Wine Shop has an outdoor patio for dining as well as a private Vintner's Room, perfect for enjoying an intimate wine experience. For a Bayside reservation, call 239-649-5552, located on the south side of The Village in suite 4270. www.baysideseafoodgrillandbar.com

Fish Restaurant 
It's all in the name! Fish brings the gifts of the sea to you, whether it's seasonal, locally caught fish, freshly prepared sushi, or delicacies from around the world brought directly to your plate.
Fish offers raw bar, lunch, dinner, happy hour, sushi, and sashimi menus packed with seasonal delights and each dish highlighting the fresh flavors of the sea. Call 239-263-3474 to make your reservation, located on the north side of The Village in suite 304. fishrestaurantnaples.com

Le Petit French Café 
A French inspired, family owned and operated, café. Whether you are looking to start your day with a fresh baked French pastry or espresso drink; refuel from shopping with a cappuccino or relax with a small bite and glass of wine – they've got you covered!
Stop in to discover their variety of French pastries and out of this world croissants. Fresh crepes, handcrafted salads and sandwiches are made to order. A full coffee bar offers the perfect pick-me-up. Mimosas or bloody mary are perfect for brunch or any time! For more information, call 239-280-0438, located on the north side of The Village Shops in suite 506. https://lepetitcafenaples.com
M Waterfront Grille 
Designed as a contemporary Naples waterfront restaurant, M Waterfront Grille is refined and engaging, featuring cutting edge continental cuisine with an emphasis on fresh seafood, steaks, house made pasta, organics and light lounge plates. The chef-driven restaurant serves innovative dishes in five unique settings that are bathed in light and open to views of sparkling Venetian Bay.
M Waterfront Grille is both a local favorite as well as a destination restaurant offering dynamic flavor profiles and polished attentive service. Your reservation awaits, 239-263-4421, located on the north side of The Village Shops in suite 104. www.mwaterfrontgrille.com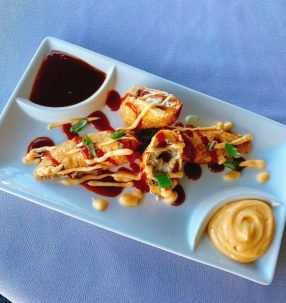 MiraMare Ristorante 
MiraMare offers a true Italian experience all while taking in the beautiful view of the Venetian Bay. You will be taken to Italy with every bite and undeniably savor the flavor until your next visit. Their menu is a balance of traditional and contemporary Italian dishes crafted with farm fresh and innovative ingredients.
Taste and presentation are of utmost importance, which is evident when tasting the made-from-scratch pastas and pizzas and the perfectly cooked seafood and meat dishes. MiraMare Ristorante can be reached by calling 239-430-6273 and is located on the south side of The Village in suite 4236. miramarenaples.com
T-Michaels Steak & Lobster 
T-Michaels specializes in USDA Prime Steaks, Whole Maine Lobsters, and their renowned Wagyu Steak. Their menu consists of classic steak and lobster fare along with signature dishes from land, sea, and earth.
Enjoy daily specials and an ever-evolving wine list featuring bottles weekly from around the globe. If you haven't already, treat yourself to a Miyazaki Japanese Certified Wagyu 5oz Steak at T-Michaels, on the menu every night, best in Naples with the best price. Call 239-261-0622 to book your reservation. T-Michaels is located on the south side of The Village Shops in suite 4050. t-michaels.com
The Village Pub
A friendly neighborhood hotspot with exceptional food and service! "Today's Catch" is always a popular menu choice serving the freshest seafood on a sandwich, salad, or prepared on a platter.
Enjoy additional options of seafood, sandwiches, salads, and the famous "Pub Stuff" section of the menu. You're guaranteed to find a personal favorite dish and a pint on tap to compliment it. The Village Pub can be found on the north side of The Village Shops in suite 606. Walk-ins only. www.villagepubnaples.com