Dine with your Valentine at The Village Shops!
The calendar has flipped to February and we are already feeling the love! Valentine's Day is only ten days away and cupid is shooting arrows all over The Village Shops!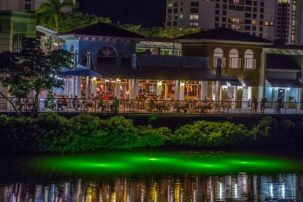 What are your plans for the big day? Are you planning a lunch day with your gal-entines, dinner date with your significant other, or just a family day on the Bay to celebrate? No matter how and who you choose to spend the day with, The Village Shops has six sparkling waterfront restaurants ready to welcome you with open arms!
The Village Shops restaurants are already gearing up for an afternoon/evening filled with zesty entrees, bold wines, rich, chocolate-filled desserts, champagne toasts, and more. With Valentine's Day specials, waterfront views, and tasty meals, it comes as no surprise that reservations fill up quickly. Make your reservation today to spend Valentine's Day on the Bay!

Decisions, Decisions! Where will you dine with your Valentine? 
Bayside Seafood Grill & Bar
239-649-5552, South Village suite 4270
Valentine's Day is all about the views at Bayside Seafood Grill & Bar, and of course the food too. Enjoy lunch or dinner at one of Bayside's many dining locations – The Grill, The Café, or the Upper Deck – enjoying the best of the best when it comes to seafood, steaks, specialty pasta dishes, and salads.
Fish Restaurant
239-263-3474, North Village suite 304
It's all in the name! Fish is bringing the gifts of the sea to you this Valentine's Day with appetizers, entrees, dessert, and of course waterfront views! Pair your favorite divine entrée with a glass of fine wine and enjoy a romantic evening on the Bay!
M Waterfront Grille
239-263-4421, North Village suite 104
M Waterfront Grille is serving only the freshest seafood, most flavorful steaks, and homemade pastas paired with bubbly champagne for a Valentine's toast. You and your Valentine are destined for a one-of-a-kind experience that will wake your taste buds!
MiraMare Ristorante
239-430-6273, South Village suite 4236
Nothing speaks to the heart like pizza and pasta. MiraMare is giving a true Italian Valentine's Day experience all while taking in the beautiful view of the Venetian Bay. MiraMare's lunch and dinner menus are the perfect balance of traditional and contemporary Italian dishes crafted with farm fresh and innovative ingredients.
The Village Pub
Walk-ins only, North Village suite 606
Spend Cupid's Day the casual way at your friendly neighborhood hotspot, The Village Pub! Enjoy options of seafood, sandwiches, salads, and the famous "Pub Stuff" section of the menu. You and your Valentine are guaranteed to find a personal favorite dish and a pint on tap to compliment it.
T-Michaels Steak & Lobster
239-261-0622, South Village suite 4050
T-Michaels Steak & Lobster is making Valentine's Day a full celebration, Saturday-Monday. The Valentine's Day menu is packed with options offering 10 starters, 10 entrees, 8 sides, and the full dessert menu. That's not all, T-Michaels is also offering a Champagne Special with all your favorite bubblies to pop and toast!