Enjoy your Local Shops & Restaurants at The Village Shops!
Naples, Florida is home to many and a beautiful place to visit for so many others. This laid back and relaxed city is well-known for its high-end shopping, sophisticated dining, and white sandy beaches. These three attractions and dozens more are what makes Naples a desired destination to foodies, fashionistas, nature lovers, beach aficionados, art experts, and wine connoisseurs from around the world.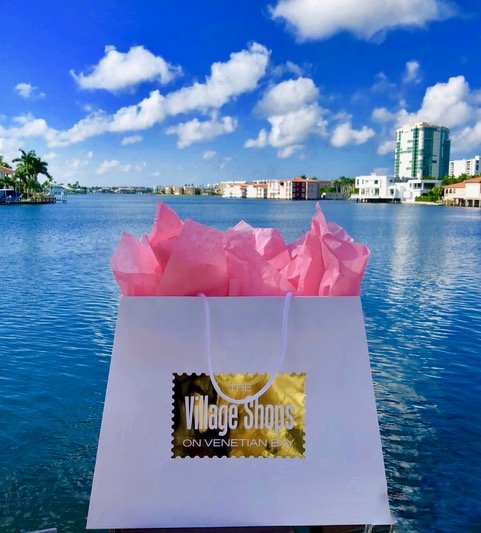 When taking time to reflect on Naples ranking as a top vacation destination (and the 6th best place to live according to U.S. News & World Report) it becomes obvious that the unique character of this quaint community is defined in large by the businesses that reside here.
The Village Shops is proud to be included in this unmatched business lineup, housing over 40 boutiques, six sparkling waterfront restaurants, Naples only Ben & Jerry's, a charming Café, and a number of salons and services.
You are guaranteed a one-of-a-kind experience regardless of whether your visit pertains to fashion, services, food, scenery, or all of the above. Your favorite local businesses can wait to see your friendly face soon!
WOMEN'S, MEN'S, AND CHILDREN'S FASHIONS
À-Tout-Âge – contemporary women's apparel and accessories designed for your resort lifestyle. 239-304-8043, North Village, suite 704. https://a-tout-age.com
All About April – an award-winning children's boutique with high-end fashion for babies and children. Toys, accessories, jewelry, and shoes. 239-430-0444, North Village, Suite 508. http://www.allaboutapril.com
BU Club – exclusive luxury fashions, shoes, and accessories for women and children to help create your own unique style. 239-263-3221, North Village, Suite 206. https://thebuclub.com
Chico's – sophisticated private label comfortable apparel. 239-261-0253, North Village, Suite 214. https://www.chicos.com/store/
Everything But Water – simply the best swimwear shopping experience with over 5,000 suits to choose from. 239-659-2782. North Village, suite 504. https://www.everythingbutwater.com
H.T. Chittum & Co. – one-stop shopping for men's and women's casual clothing, resort wear, and accessories. Featuring Peter Millar, Johnnie-O, Tribal, Lulu B, and more. 239-643-5150, South Village, Suite 4242. http://www.htchittum.com
J&K Collections – award-winning women's fashion. Updated clothing and casual daywear for the modern woman. 239-262-4040, South Village, Suite 4266. http://www.jkcollections.net
J.McLaughlin – classic American clothing and accessories. 239-776-7772, South Village, Suite 4260. https://www.jmclaughlin.com
Jean-Pierre Klifa – a Parisian fashion designer creating signature prints to accompany his colorful classic bucket bag handbags and resort style clothing for women. 239-529-2955, North Village, Suite 602. https://www.jeanpierreklifa.com
Lux Boutique – a highly sought-after contemporary store that embodies the modern lifestyles of women with a love for fashion. 239-263-2557, South Village, Suite 4262. https://www.shopluxboutique.com
Mondo Uomo – updated menswear including Robert Graham, St. Croix, and Bugatchi Uomo. 239-434-9484, South Village, Suite 4232. https://mondouomo.com
Monkee's of Naples – from trend setting designers, Milly and Alice & Olivia, to the ultimate in resort wear by Jude Connally and Tyler Boe, Monkee's is known to carry the finest in ladies' shoes, clothing, and accessories. 239-331-2666, North Village, Suite 208. http://monkeesofnaples.com
Muse Inspired Fashion – an unparalleled mix of fun, eclectic clothing, shoes, and accessories for men and women! Always unique, always special. 239-307-7061, South Village, Suite 4202. https://museinspiredfashion.com
Panache – Brighton, Southern Tide, Tori Richard, Hately and other great resort chic fashion and accessories. 239-649-0996, North Village, Suite 700. https://www.panachenaples.com
Patchington – exclusive women's fashion and accessories. 239-434-7182, North Village, Suite 204. https://www.patchington.com
Pratt's Shoe Salon – Designer footwear and fashion-forward accessories. Robert Zur, Ron White, Pelle Moda, and more. 239-262-6342, South Village, Suite 4206. https://www.prattsshoesalon.com
Sara Campbell – Boston-based designer Sara Campbell is known for blending luxurious fabrics with on-trend silhouettes. Offers clothing and accessories for the chic but modern woman. All products made in the USA. 239-331-7678, South Village, Suite 4252. https://www.saracampbell.com
Simply Natural – smart casual clothing for the Florida lifestyle. Joes, DL 1961, AG Denim, Free People, Bailey 44, Susana Monaco, and many more. 239-643-5571, North Village, Suite 302.
Southern Tide – a coastal lifestyle apparel brand that embodies a Southern state of mind and adventurous spirit. 239-325-9760, North Village, Suite 502. https://southerntide.com
The B. Store – direct from Los Angeles Apparel Markets, offering an exclusive curated collection of the latest women's apparel with over 100 new items delivered weekly. 239-919-3446, South Village, Suite 4250. https://www.thebstore.com
Teruzzi – fine menswear and accessories. Serving Naples since 1984. 239-263-2252, North Village, Suite 300. http://www.venetianvillage.com/portfolio_page/teruzzi/
Tommy Bahama – island-inspired lifestyle brand that defines a relaxed, yet sophisticated style in men's and women's sportswear, accessories, and footwear. 239-403-0586, North Village, Suite 500. https://www.tommybahama.com
Whispers of Naples – focuses on a spectrum of Italian collections for women such as colorful Ploumanac'h lightweight cotton-knit sweaters, Shaft jeans, classic Italian clothing from Hubert Gasser and Elisa Cavaletti with her unique embellishments. Robert Friedman blouses & dresses and the ultimate in supremo Italian clothing….Peserico! Their California chic casuals feature LA designers Bella Dahl, Fifteen Twenty, Maven West, Fidelity denim & Drew NYC.  Artisan jewelry and accessories are presented from around the globe! 239-403-0220, North Village, Suite 210. https://www.whispersofnaples.com
Wildflower – an exceptional boutique specialized in upscale casual and chic sportswear and special occasion women's fashion. 239-643-6776, South Village, Suite 4222. https://www.wildflowerboutique.biz
GALLERIES, GIFTS, AND HOME DECOR
A Horse of a Different Color – a wonderfully unique collection of gifts, candles, accessories, tabletop, and kitchen items. 239-261-1252, South Village, Suite 4226. https://horseofadifferentcolornaples.com/#
Casanova Venetian Glass & Art – creations from glass masters of Murano, Italy. Vases, mirrors, sculptures, chandeliers, Venetian masks, Murano jewelry, an art gallery, and more. 239-571-1610, North Village, Suite 706. http://www.casanovaart.com
Fabec-Young & Co. – contemporary and unique gifts for the home. 239-649-5501, North Village, Suite 604. https://fabec-young.com
Sukie's Wine Shop – a robust collection of 150 premium wines. Hand-picked by owner and wine expert Sukie Honeycutt, the petite shop's inventory is well-versed to provide options for any occasion or food pairing. 239-228-5823, South Village, Suite 4280. https://www.sukieswineshop.com
The Spice & Tea Exchange® – Discover the Flavor of Naples! Shop custom seasoning blends, loose-leaf teas, infused salts and sugars, gourmet gifts, candles, and freshly steeped tea to-go. 239-776-7730, North Village, Suite 209.https://www.spiceandtea.com
JEWELRY AND WATCHES 
Exquisite Timepieces – Audemars Piguet, Breguet, Hublot, Omega, and more. 239-262-4545, North Village, Suite 800. https://www.exquisitetimepieces.com
The Gallery of Estate & Precious Jewels – rare vintage jewelry and contemporary designers. 239-434-7070, North Village, Suite 211. https://www.galleryestatejewelry.com
WM. Phelps Custom Jeweler – jewelry handcrafted on-site. Restoration and cleaning. 239-434-2233, North Village, Suite 812. https://www.phelpsjewelers.com
RESTAURANTS
Bayside Seafood Grill & Bar – delicious seafood, steaks, and pasta. Two levels; indoor and out. Every seat has a water view. 239-649-5552, South Village, Suite 4270. https://www.baysideseafoodgrillandbar.com
Ben & Jerry's – world-renowned ice cream, frozen yogurt, sorbet, and more. The only Ben & Jerry's in Naples! 239-434-5850, North Village, Suite 212. https://www.benjerry.com
Black Letter Coffee + Cafe (Formerly Known as Le Petit French Café) – artisan coffee, fresh crepes and pastries, handcrafted salads and sandwiches, specialty items, and more! 239-280-0438, North Village, Suite 506. https://blacklettercoffeecafe.com
Fish Restaurant – fresh exceptional quality seafood, steaks, and chops. Voted best sushi and raw bar in Naples! 239-263-3474, North Village, Suite 304. https://www.fishrestaurantnaples.com
M Waterfront Grille – cutting-edge Continental cuisine with an organic twist. Indoor and outdoor dining. Lounge menu available. 239-263-4421, North Village, Suite 104. https://www.mwaterfrontgrille.com
MiraMare Ristorante – authentic northern Italian cuisine with spectacular views. 239-430-6273, South Village, Suite 4236. https://miramarenaples.com
T-Michaels Steak & Lobster – USDA prime steaks, twin lobster tails, locally-caught fresh fish, signature cocktails, and an upgraded wine list. 239-961-0622, South Village, Suite 4050. https://t-michaels.com
The Village Pub – friendly service and casual pub fare with a water view. 239-262-2707, North Village, Suite 606. https://www.naplespubs.com/village_pub/
SALONS AND SERVICES
Elegant Style Salon – pamper yourself with exceptional services in a relaxing and luxurious atmosphere. 239-234-5626, North Village, Suite 804. https://www.elegantsalonnaples.com
Expedia Cruises – established in 1987, Expedia Cruises is a market leader in cruise and vacation bookings through 230+ locations across North America. 800-834-5183, North Village, Suite 818. https://www.expediacruises.com/en-US/corporate
Park Shore Marina – boat rentals, ship store, and fuel sales. 239-434-0724, North Village, Suite 99. https://naplesflboatrentals.com
Premier Sotheby's International Realty – presenting the finest properties along the Gulf Coast of Florida and the Carolinas. 239-261-6161, North Village, Suite 100. https://www.premiersothebysrealty.com
Robert of Philadelphia – world-class salon. Classic to contemporary hair designs. 239-434-2211, North Village, Suite 810. https://ropsalons.com
Schwartz & Co. – a family owned and operated investment advising firm, with offices in Naples, FL and Bloomfield Hills, MI. The team of over 40 professionals specializes in Wealth Management, Institutional Services and Investment Banking. 239-963-2250, South Village, Suite 4040. https://www.gjsco.com
Time 4 U Med Spa – a luxurious medical spa offering Botox Cosmetic, Dysport, dermal fillers, Kybella, Sculptra, silouette instalift threads, EMSCULPT and CoolSculpt body contouring, laser skin rejuvenation, laser hair removal, laser vein removal, IPL photofacial, Venus Viva RF microneedling, HydraFacial, medical-grade chemical peels, and sclerotherapy. 239-810-4400, North Village, Suite 820. https://www.time4umedspa.com
The Village Shops on Venetian Bay is located at 4200 Gulf Shore Blvd North Naples, Florida 34103 and can be reached by calling 239-261-6100. To stay up-to-date on the latest happenings and for a full directory listing, visit The Village Shops website at https://www.venetianvillage.com, Facebook/Instagram/TikTok pages @VenetianVillage, and Twitter @VenetianNaples.