Foodie Friday at The Village Shops!
Foodie Friday should be a weekly phenomenon at The Village Shops, starting with coffee and crepes from Le Petit French Café, delectable dining from one of the six sparkling waterfront restaurants, and dessert from Naples' only Ben & Jerry's.
Let's look at it this way…you made it through the week. Regardless of whether your week was filled with working long hours, packing school lunches and carline, exhausting yet rewarding workout classes, or a relaxing vacation, Friday's are always worth celebrating.
Here is your reminder that there is truly no better way to celebrate the start of the weekend than a Foodie Friday morning, afternoon, or evening featuring delicious food and waterfront views at The Village Shops.
The most glorious aspect about Foodie Fridays is options! This includes options of appetizers, entrees, drinks, and desserts, as well as, seating and view options.
All six of the restaurants at The Village Shops are situated on the Venetian Bay with their own unique views of the water. The uniquely different but equally beautiful views provided by each restaurant are similar to the menus offered, all vastly different in regards to offerings and taste but all equally delicious. From pub grub to elegant dining, there is something to satisfy any and all taste buds.
Lastly, just to set the record straight, there is always a reason to dine at The Village Shops every day of the week, not just Fridays. For starters, Mondays come at you too quick to even think about grocery shopping or cooking. Then, there is Taco Tuesday, Wine Down Wednesday, Treat Yourself Thursday (because quite frankly, why not? There are too many delicious Village menu items and too many ice cream flavors to only eat out on the weekends), Foodie Fridays, Seafood or Sundae Saturdays, and of course Sunday Funday at Brunch!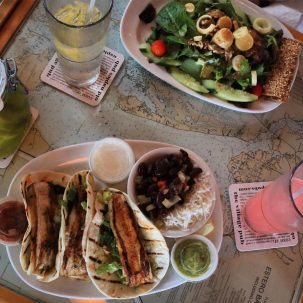 What are you waiting for? Plan out your dining days on the Bay. Whether you go for breakfast, lunch, or dinner, you'll come out feeling like a winner! Make your reservation today because your seat by the water is waiting! 
Bayside Seafood Grill & Bar
Ben & Jerry's
Fish Restaurant
Le Petit French Café
MiraMare Ristorante
M Waterfront Grille
The Village Pub
T-Michaels Steak & Lobster