Groove Culture Music School Rocked The Village Shops!
On Tuesday, December 10th, for the 12th consecutive year, Groove Culture Music School put on an unforgettable performance at The Village Shops that even had Santa dancing out of his seat!
Groove Culture is a performance-based music school in Naples, which creates an environment for students to learn the skills needed to play instruments in private lessons, but learn the language of music through playing alongside one another in a band. On Tuesday evening, the students of all ages showcased their dedication and talent to the art of music.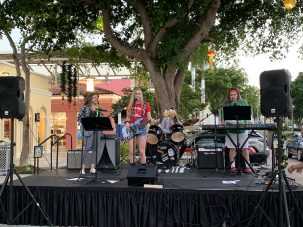 The bands – The Donuts, The Spoilers, Suga, and more – as well as two soloists had quite the fan base! Crowds gathered for a true concert experience, cheering for friends and family and singing along.
Throughout the evening, songs, genres, and performers rotated featuring hits from artists such as Bruno Mars, Amy Winehouse, Neil Diamond, Journey, The Cranberries, and more! The bands even added in several holiday favorites to get the audience in the Christmas spirit including fun renditions of "Run Run Rudolph" and "Frosty the Snowman".
In between Santa dancing, family, friends, and band members also had the opportunity to take complimentary photos with Santa and Mrs. Claus. Concertgoers received a printed and emailed copy of their photo as a concert souvenir.
Groove Culture Music School rocked the house and The Village Shops cannot wait to have the bands back next holiday season to perform for the 13th year!