It's Always the Perfect Time to Shop and Dine at The Village Shops!
Year after year, Naples is ranked one of the happiest and healthiest cities in the United States. How can year-round residents and visitors not be happy residing in or stopping by Naples, a city filled with unlimited shopping, world-class dining, waterfront views, a relaxing atmosphere, a friendly community, and endless days of sunshine? Coincidentally, all of these elements are not only details that make up Naples but also all details that can be found at The Village Shops!
Locals and tourists alike cannot pass up a trip to The Village Shops, enjoying 40+ unique boutiques and six sparkling waterfront restaurants. While shopping and dining are the reasons for the Village visits, the views keep guests coming back for more! At The Village Shops there is so much to explore and see while outside soaking up the Vitamin D.
Immediately upon arrival, it is clear why The Village Shops has been acclaimed the "Jewel of Naples" with its breathtaking views of the Venetian Bay. No matter the time of day, the views are always extraordinary and unforgettable.
This includes the morning sunrise views while sipping your coffee and eating Naples' best crepes from Le Petit French Café in addition to the post-dinner, nightly sunsets views while delighting in an ice cream cone from Naples' only Ben & Jerry's.
When dining at any of the six sparkling waterfront restaurants, expect nothing but plated perfection and panoramic views with ample patio seating options.
The same goes for shopping. Enjoy exceptional sights while strolling from shop to shop and even while browsing the racks of designer products inside the boutiques. There is truly something for everyone with The Village's one-of-a-kind boutiques offerings of women's, men's, and children's fashions, accessories, footwear, gifts, spas and salons, home décor, and so much more!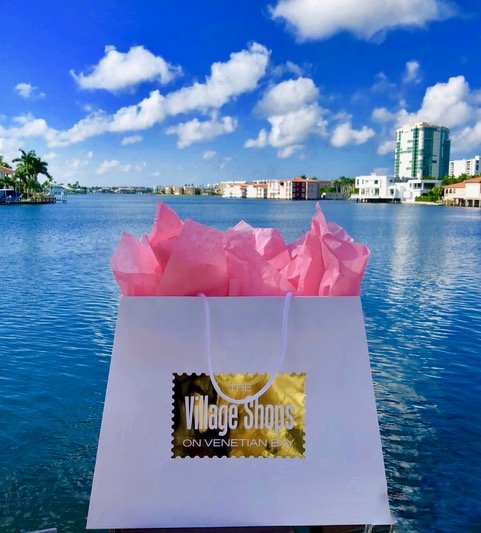 At any moment, snap a picture of the frequently visiting dolphins and jumping fish or wave to the boaters and paddle boarders admiring the beautiful Venetian inspired architecture. Every day is a good day to spend on the Bay at The Village Shops, located at 4200 Gulf Shore Blvd North Naples, Florida 34103. For a full directory listing, visit https://www.venetianvillage.com/directory/