Kick Off the Weekend by Dining at The Village Shops!
Just like that, the weekend is finally here! Have you experienced lunch or dinner at The Village Shops on a beautiful Naples weekend? Let's just say, it is an experience you don't want to miss. Starting with one-of-a-kind restaurants, endless options of menu offerings, breezes off the Venetian Bay, a friendly wave from the Bay boaters, the occasional underwater visitors popping up to say "hi", and so much more!
Enjoy your weekend to the fullest and leave the cooking and cleaning up to The Village Shops restaurants. View the below restaurant websites for full menu offerings and to book your reservation to dine under the Naples' sunshine!
Bayside Seafood Grill & Bar 
Bayside is located on the south side of The Village in suite 4270. To make a reservation, call 239-649-5552. www.baysideseafoodgrillandbar.com
Fish Restaurant 
Fish Restaurant can be reached at 239-263-3474, located on the north side of The Village in suite 304. www.fishrestaurantnaples.com
Le Petit French Café 
Le Petit is located on the north side of The Village Shops in suite 506. For more information, call 239-280-0438. www.lepetitfrenchcafe.com
M Waterfront Grille
Your reservation awaits, 239-263-4421, located on the north side of The Village Shops in suite 104. www.mwaterfrontgrille.com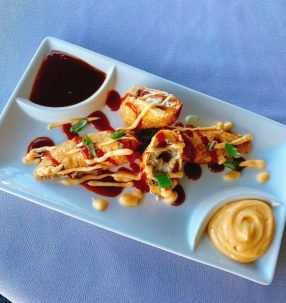 MiraMare Ristorante 
MiraMare can be reached by calling 239-430-6273 and is located on the south side of The Village in suite 4236. www.miramarenaples.com
T-Michaels Steak & Lobster 
T-Michaels is located on the south side of The Village Shops in suite 4050. Call 239-261-0622 to make a reservation. www.t-michaels.com
The Village Pub
The Village Pub can be found on the north side of The Village Shops in suite 606. Walk-ins only. www.villagepubnaples.com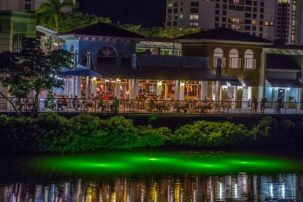 Ben & Jerry's Ice Cream
Ben & Jerry's is located on the north side of The Village Shops in Suite 212 and can be reached by calling 239-434-5850.www.benjerry.com