Make Time for Mealtime at The Village Shops on Venetian Bay!
Mealtime is the most important time of the day. It's about more than just eating, it is about chatting, catching up, and making memories! The Village Shops' sparkling waterfront restaurants believe in the importance of gathering around the table and take it one step further by handling the preparations, cooking, and cleaning, leaving you strictly with the responsibility of enjoying the food, views, and company!
With that said, gather your family and friends and head to The Village Shops for breakfast, brunch, lunch, dinner, and/or happy hour! No matter the occasion, your waterfront table awaits. Read on for a list of Village Shops restaurant with contact information to make your reservation to dine alongside the Naples sunshine!
Bayside Seafood Grill & Bar 
Bayside is located on the south side of The Village in suite 4270. To make a reservation, call 239-649-5552. www.baysideseafoodgrillandbar.com

Fish Restaurant 
Fish Restaurant can be reached at 239-263-3474, located on the north side of The Village in suite 304. www.fishrestaurantnaples.com

Le Petit French Café 
Le Petit is located on the north side of The Village Shops in suite 506. For more information, call 239-280-0438. www.lepetitfrenchcafe.com
MiraMare Ristorante 
MiraMare can be reached by calling 239-430-6273 and is located on the south side of The Village in suite 4236. www.miramarenaples.com

M Waterfront Grille
Your reservation awaits, 239-263-4421, located on the north side of The Village Shops in suite 104. www.mwaterfrontgrille.com

The Village Pub
The Village Pub can be found on the north side of The Village Shops in suite 606. Walk-ins only. www.villagepubnaples.com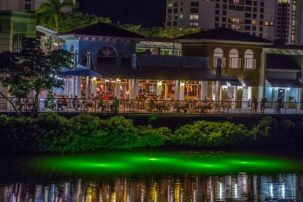 T-Michaels Steak & Lobster 
T-Michaels is located on the south side of The Village Shops in suite 4050. Call 239-261-0622 to make a reservation. www.t-michaels.com

Ben & Jerry's Ice Cream
Ben & Jerry's is located on the north side of The Village Shops in Suite 212 and can be reached by calling 239-434-5850.www.benjerry.com