Make Your Reservation to Spend Easter Day on the Bay!
Are you getting egg-cited for Easter? How can you not with a visit from the Easter Bunny, egg hunts, time with family and friends, candy galore, and so much more. We can't forget about the main factor that brings families together during the holidays – food! There is always so much chatter, laughter, and togetherness as families gather around the breakfast, lunch, and dinner table. The Village Shops restaurants are open for Easter and joining in the excitement providing brunch, lunch, and dinner menus that will keep everyone hoppy this holiday. Get dressed in your Sunday best and let The Village Shops restaurants handle the rest!
Bayside Seafood Grill & Bar is offering Brunch from 11:30am-2:00pm. The Bayside website has a full listing of their brunch menu (https://www.baysideseafoodgrillandbar.com/menu/) but we will give you an exciting sneak peek. The Brunch menu has a full selection of starters, salads, sandwiches, and specialty items. The specialty items give the true tastes of brunch including the Western Skillet, Venetian Seafood Omelet, Eggs Benedict, Quiche of the Day, Grand Marnier French Toast, and more!
Now onto dinner, Bayside is serving up Easter dinner from 2:00pm-9:00pm. Let's just say, Bayside's dinner is divine with options such as the Lobster Bites, Baked Brie, Crunchy Florida Grouper Sandwich, Snapper Francaise, and the list goes on and on.
With help from Bayside, make your Easter Sunday full of seafood, sips, sunshine, and smiles! Bayside is located on the south side of The Village in suite 4270. To make a reservation, call 239-649-5552.
Fish Restaurant will be open on Easter Sunday from 11:30am-3:00pm for lunch and 4:00pm-9:00pm for dinner, bringing the gifts of the sea to you. This includes Fish's menu packed with seasonal, locally caught fish, freshly prepared sushi, and delicacies from around the world. For lunch, Fish has appetizers, soups, salads, a raw bar, entrees, sushi rolls, sushi & sashimi platters, and small plates. Talk about endless options!
Be sure to save up your appetite for dinner with options such as their Signature Lobster Macaroni & Cheese, Caprese Salad, Colorado Rack of Lamb, Branzino, Ceviche, Alaskan King Crab, and many other seafood delicacies!
Reserve your waterfront table today by calling 239-263-3474. Fish Restaurant is located on the north side of The Village Shops in suite 304. To view their lunch and dinner menus, visit https://www.fishrestaurantnaples.com.
M Waterfront Grille is offering Brunch from 10:00am-1:30pm. The Easter brunch menu of course offers eggs – Classic Eggs Benedict and the M Egg Skillet – along with other brunch features such as their Lobster Quiche, Alderwood Smoked Salmon, and the New England Lobster Salad. You can't forget about the bubbly! M Waterfront Grille is serving up bloody marys as well as bottomless mimosas/champagne.
M Waterfront Grille is also offering their dinner menu all day from 10:00am-8:00pm, which we are sure you know well with their app, greens, pasta, cuts, and sea sections. To get your mouth watering, this dinner menu includes their famous Crab & Shrimp Spring Rolls, Beets and Fried Goat Cheese Salad, Pomodori Pasta, Diver Scallops, Veal Milanese, and so much more!
M-Waterfront Grille is located on the north side of The Village in suite 104. For more information, call 239-263-4421 or visit https://mwaterfrontgrille.com.
MiraMare Ristorante is serving up a true Italian Easter experience all while taking in the beautiful view of the Venetian Bay. Enjoy Easter lunch or dinner at MiraMare, open from 12:00pm-10:00pm, and be taken to Italy with every bite. Their menu is a balance of traditional and contemporary Italian dishes crafted with farm fresh and innovative ingredients such as their Parmigiana Di Melanzane, Pappardelle Al Telefono, Fettuccine Alla Bolognese, and more Primi Piatti dishes.
Let MiraMare serve up a slice of their made-from-scratch pizzas for you this Easter with a number of options including Pepperoni, Vegetariana, Capricciosa, Margherita, Prosciutto con Arugula, Calzone de la Nonna, Hawaiian, Calzone Il Mio Bambino, and the famous MiraMare Pizza.
Experience Easter the Italian way at MiraMare Ristorante, located on the south side of The Village in suite 4236. For more information, call 239-430-6273 or visit https://miramarenaples.com.
T-Michael's Steak & Lobster House has all day excitement on Easter starting with their Champagne Jazz Brunch served from 11:00am-3:00pm and dinner served from 3:00pm-9:00pm. The Champagne Jazz Brunch features music from Stu Shelton, two carving stations, a full unlimited menu, bellinis, mimosas, bloody marys, and of course waterfront views!
If dining for dinner, T-Michaels has a full menu of appetizers, entrees, and sides, including favorites such as the Colossal Shrimp Cocktail, Twin Lobster Tails, Colorado Rack of Lambs, Applewood Baked Ham, Seafood Trio, and more! Call 239-261-0622 to book your reservation.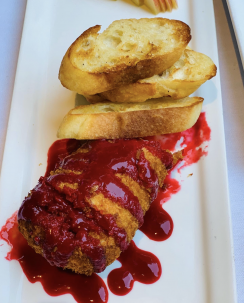 T-Michaels is located on the south side of The Village Shops in suite 4050. For more information, visit https://t-michaels.com.
The Village Pub will be closed on Easter.