New Year, Same Great Restaurants at The Village Shops on Venetian Bay!
2019 is right around the corner and with that comes the scramble to find New Year's Eve plans. The Village Shops restaurants are the best place to raise a glass and toast to the New Year, all while enjoying delectable dining. Make your reservation today at one of the six sparkling waterfront restaurants!
Bayside Seafood Grill & Bar will be open from 12:00pm-8:00pm on New Year's Eve. They will be offering a special menu, which includes starters, salads, entrees, and desserts.
Beeline for the Upper Deck to enjoy a champagne toast while overlooking the waterfront and place your order from their modified Grill New Year's Eve menu. Make a reservation at 239-649-5552. Bayside is located on the south side of The Village in suite 4270.
Celebrate New Year's Eve with Fish Restaurant from 12:00pm-9:00pm. Fish will provide a customized menu all day in addition to their everyday dinner menu.
There is no better way to celebrate than with seafood. The starters include crab cake, lobster tempura, and a shellfish tower. The entrees will amp your taste buds with steak and lobster, a sushi boat for two, bronzino, and day-boat scallops.
Complete your delicious dining with dessert, a limoncello flute. Reserve your waterfront table today by calling 239-263-3474. Fish Restaurant is located on the north side of The Village Shops in suite 304.
M Waterfront Grille will be serving New Year's Eve lunch from 11:30am-2:30pm and dinner from 4:30pm-11:00pm. M Waterfront has two three-course pre-fixe dinner menus to choose from. There will be an early bird pre-fixe menu available from 4:30pm-5:45pm for $69 per person. The late diners will also have the option of a three-course menu from 6:15pm-11:00pm for $99 per person.
The menu items – starters, vegetarian, sea, land and dessert – go on and on. The menu also consists of Holiday featured wines including Veuve Clicquot, Cabernet Sauvignon Trefethen, Oakville, and Sancerre, Maison Langlois-Chateau. Cheers! Make your reservations before they fill up by calling 239-263-4421. M Waterfront Grille is located on the north side of The Village Shops in suite 104.
MiraMare Ristorante will be serving up good food and spectacular views on New Year's Eve. There are two seatings available, beginning at both 5:30pm and 9:00pm. Both seatings will be offering at 5-course pre-fixe menu for $125 per person.
Included in this price is a 5-course meal, live music, party favors, and a champagne toast for the New Year! Make your reservation by calling 239-430-6273. MiraMare is located on the south side of the Village Shops in suite 4236.
T-Michaels Steak & Lobster House will be offering a number of starters and seafood and steak entrees from 2:00pm-10:00pm on New Year's Eve.
Whether you're celebrating with a dessert or a glass of champagne, T-Michaels has something for everyone. They will be offering their full dessert menu and holiday champagne specials – Veuve Cliquot, Bollinger, and Charles Heidsieck. Call and make your reservation at 239-261-0622. T-Michaels is located in suite 4050 on the south side of The Village Shops.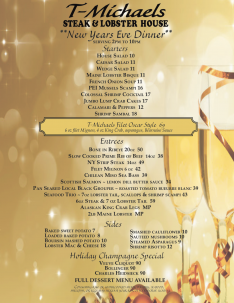 The Village Pub will be open on New Year's Eve from 11:00am-9:00pm. The Pub will be offering their all day, everyday nautical menuconsisting of seafood, sandwiches, salads, and the famous "Pub Stuff".
You're guaranteed to find a menu favorite and a pint on tap to compliment it. Make your reservation to enjoy a panoramic view of the Bay by calling 239-363-2707. The Village Pub is located on the north side of The Village Shops in suite 606.
Cheers to the New Year at The Village Shops!