One Stop at The Village Shops: Sell your House, Put Money in the Bank, and Book that Cruise!
The Village Shops on Venetian Bay is known around Naples for its six sparkling waterfront restaurants, 40+ unique boutiques, and breathtaking views of the Venetian Bay. However, lets take a moment to talk service! Did you know that The Village Shops has a full listing of services including a bank, real estate company, and travel agency? You are a few appointments away from selling your current home and finding your forever home, saving and investing at the bank, and cruising to the Caribbean!
First matter of business is to sell your house! Are you looking to downsize, expand, move near the water or white sandy beaches, or get that pool you've always dreamed of? The options are truly endless and there is no better company to help than Premier Sotheby's at The Village Shops. Premier Sotheby's International Realty opened at The Village Shops in 1984 as the firm's first sales office to service the developing area of luxury beachfront towers and single-family homes. Premier Sotheby's longevity pays tribute to their expertise in the market.
Over thirty years later, Premier Sotheby's continues to serve Park Shore, one of Naples' most respected neighborhoods for its many attributes of proximity to the beach, boating, back bays, and the Gulf of Mexico. Now is the time to buy the beach bungalow you've always wanted. Premier Sotheby's office is located on the north side of The Village Shops in suite 100. Call 239-261-6161 to schedule an appointment and begin the selling/buying process.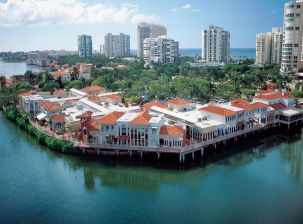 Now that, with the help of Premier Sotheby's, your house is sold, it's time to put money in the bank. MIDFLORIDA Credit Union is here to help with all your banking needs. With more than 50 branches from Tampa Bay to the Treasure Coast, MIDFLORIDA offers a full range of banking products and services to members across Central Florida.
As of 2020, MIDFLORIDA has grown to nearly 65 branches, more than 1,000 employees and assets over $4.98 billion. Presently, they are servicing more than 359,500 members in Florida with products and services that rival any local bank, while maintaining the credit union philosophy of excellent personal attention. Located on the south side of The Village Shops in suite 4040, MIDFLORIDA Credit Union is open Monday – Friday from 8:00am-5:00pm. For any questions call 239-403-0076.
The house is sold, money is in the bank, what's left to do other than sail away on a vacay! Head over to Expedia Cruises on the north side of The Village Shops in suite 818 to begin booking a trip to anywhere under the sun. Established in 1987, Expedia Cruises is a market leader in cruise and vacation bookings through 230+ locations across North America. The knowledgeable Vacation Consultants will walk you through Expedia's full range of vacation travel products including escorted tours, all-inclusive resorts, travel insurance, airline tickets, and car and hotel travel.
Visit some of Expedia's popular vacation destinations such as Alaska, the Caribbean, Europe, Hawaii, or Mexico! Expedia Cruises are navigators of spectacular vacation experiences. As part of the number one brand in travel, their promise to you is: advice you can trust, the best choice in prices, Expedia Extras, more than cruises, and always there.
What are you waiting for? Sell, save, and book!