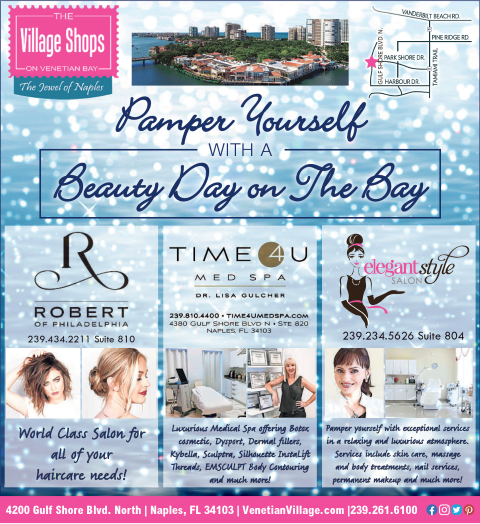 Relax and Rejuvenate in the Best Way with a Beauty Day on the Bay!
There is a popular quote by Author Anne Lamott that states "Almost everything will work again if you unplug it for a few minutes, including you". Whether virtually unplugging your mind or literally unplugging your computer and phone, they are all the same with the end game of achieving relaxation. We urge you to take the thoughts of rest and relaxation one step further and head down to The Village Shops to unplug with a beauty day on the Bay!
The Village has a full listing of salons and services to provide much needed pampering! There are three stops to make during a beauty day on the Bay – Elegant Style Salon, Time 4 U Med Spa, and Robert of Philadelphia Salon.
Elegant Style Salon, a high-end, full-service skin care salon, has been a destination spot for those looking for an ultimate day of rest and relaxation. The salon offers high-tech, anti-aging facials, microdermabrasion, chemical peels, permanent makeup, therapeutic massages, body wraps, and several other skincare services as well as nail services!
Elegant Style Salon is also pleased to welcome guests to experience the services of their new Massage Therapist, Christopher J. Zacharkiewicz. Chris brings a wide variety of therapeutic massage skills and techniques to Elegant Style Salon, which include Deep Tissue, Trigger Points, Sciatica, Migraines, Stress, TMJ, Carpal Tunnel Syndrome, Sports Massage and Relaxation Massage. Elegant Style Salon is located on the north side of The Village Shops in suite 804. Book your appointment today by calling 239-234-5626.
Walk out of suite 804 and right around the corner to Naples' latest and greatest med spa in suite 820 to continue the pampering! Time 4 U Med Spa is a luxurious medical spa offering a number of advanced services including Botox Cosmetic, Dysport, dermal fillers, Kybella, Sculptra, silouette instalift threads, EMSCULPT and CoolSculpt body contouring, laser skin rejuvenation, laser hair removal, laser vein removal, IPL photofacial, Venus Viva RF microneedling, HydraFacial, medical-grade chemical peels, and sclerotherapy.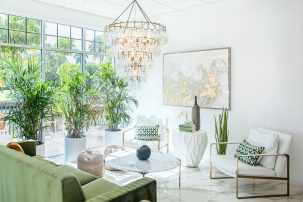 Dr. Lisa Gulcher, owner and founder, has over 15 years of expertise in aesthetic medicine. When you schedule a consultation by calling 238-810-4400, Dr. Gulcher will create a personalized treatment plan that's right for your unique concerns and budget.
Last but definitely not least is hair care! Robert of Philadelphia has been providing top quality hair care, style, and service to The Village Shops since 1987. Step into their spacious salon, located on the north side of The Village Shops in suite 810, to enjoy a luxe, upscale salon experience and atmosphere unmatched in Naples.
The extraordinary stylists are kept up-to-date on all of the new techniques and styles in today's fast paced fashion industry providing guests with the most cutting-edge techniques, treatments, colors, and styles. Call 239-434-2211 to schedule your appointment today!
A beauty day on the Bay is exactly what is needed before entering the holidays and to finish out the year in the right mindset. Stop by or call today for more information. The Village Shops on Venetian Bay is located at 4200 Gulf Shore Blvd North, Naples, Florida 34103 and can be reached by calling 239-261-6100.