Reserve Your Waterfront View for Christmas Eve & Day!
The sparkling waterfront restaurants at The Village Shops are making sure the holiday season is all about spending time with family and friends and less time in the kitchen. The restaurants have each carefully crafted Christmas Eve and Christmas Day menus to satisfy every palate. Make your reservations to spend Christmas weekend on the Bay. While at The Village Shops, also be sure to take a family photo in front of Naples' tallest Christmas tree, glistening tall for all to see!
Bayside Seafood Grill & Bar:
Christmas Eve | 11:30am-9:00pm
Christmas Day | 12:00pm-8:00pm
Have you ever experienced a panoramic sunset while dining inside or outside at Bayside? Simply incredible…but pair the Bayside views with their lunch or dinner menu, and you'll have yourself a truly unforgettable and picturesque holiday! Bayside is serving up starters, salads, entrees, and desserts consisting of both land and sea options.
Don't fill up too quickly though because you're going to need to save room for their Chocolate Mousse Cake, Famous Key Lime Tart, and more to top off an already spectacular evening! Secure your waterfront spot by making a reservation at 239-649-5552. Bayside is located on the south side of The Village in suite 4270.
Fish Restaurant:
Christmas Eve | 12:00pm-9:00pm
Closed on Christmas Day
Christmas Eve is a busy night spent wrapping last minute gifts, setting out desserts for Santa, and so much more scrambling! Take cooking off your Christmas Eve "To Do" list and spend your evening at Fish Restaurant enjoying their appetizer, soup, salad, and entree options.
For a sneak peek, Fish is offering appetizers of Garlic Prawn Caprese, Manhattan Clam Chowder Soup, and a Baby Greens salad accompanied by the main course offerings of Cilantro Honey Rack of Lamb and Seven Fishes Cioppino. Reserve your waterfront table today by calling 239-263-3474. Fish Restaurant is located on the north side of The Village Shops in suite 304.
M Waterfront Grille:
Christmas Eve | 11:30am-8:00pm
Christmas Day | 12:30pm-8:00pm
A Christmas Day menu that is three courses means A LOT of options! Up first is the appetizers and greens, a perfect way to start Christmas Day on the Bay. This first course menu includes New England Clam Chowder, Lobster Bisque, Shrimp Cocktail, Caesar Salad, House Salad, and lastly Beets & Fried Goat Cheese. After selecting a tasty app or salad, it's time to move on in to the second course of land (Filet Mignon, Short Rib, and Veal & Shrimp) and sea (Seabass, Scottish Salmon, and Twin Lobster Tails).
Now onto the grand finale third course of dessert including Key Lime Pie and Home-Made Doughnut + Hole, YUM!  Your waterfront table and three course meal awaits, make your reservation today by calling 239-263-4421. M Waterfront Grille is located on the north side of The Village Shops in suite 104.
MiraMare Ristorante:
Christmas Eve | 12:00pm-9:00pm
Closed on Christmas Day
Have yourself a…n Italian little Christmas Eve! MiraMare is open 12pm-9pm on Christmas Eve, ready to serve up an Italian feast. Starting with the starters, MiraMare is offering calamari and/or the Roasted Beet Salad.
Moving along to the main courses of popular Italian favorites of Baccala or Spaghetti Frutti Di Mare, a seafood masterpiece made up of Maine lobster meat, shrimp, calamari, clams, mussels, lump crab meat, baccala pieces, and arrabiata sauce. Make your reservation today by calling 239-430-6273. MiraMare is located on the south side of the Village Shops in suite 4236.
T-Michaels Steak & Lobster House:
Christmas Eve | 4:00pm-10:00pm
Christmas Day | 12:00pm-8:00pm
T-Michaels has a Christmas menu like no other deliciously packed with starters, entrees, sides, and desserts! First stop is the starters of salad, Maine Lobster Bisque, PEI Mussels Scampi, Jumbo Lump Crab Cakes, Shrimp Sambal, and more! Now it's time to review the mouthwatering entrees of Colorado Rack of Lamb, Slow Cooked Prime Rib of Beef, Pan Seared Local Black Grouper, Traditional Ham or Turkey Dinner, and more!
The grand dessert finale includes Key Lime Pie, Coconut Vanilla Ice Cream Snowball, Crème Brûlée, Raspberry Swirl Cheesecake, and Warm Apple Pie a la Mode. Call and make your reservation, by calling 239-261-0622. T-Michaels is located in suite 4050 on the south side of The Village Shops.
The Village Pub:
Christmas Eve: 11:00am-4:00pm
Closed on Christmas Day
A laidback, casual Christmas Eve is always a popular choice! The Village Pub has all the menu options. From "Todays Catch" served on a platter, salad, or sandwich and "Sea Delights" to "Pub Stuff", ribs, chicken, tacos, sandwiches, wraps, melts, and of course the "Best Burger on the Bay"!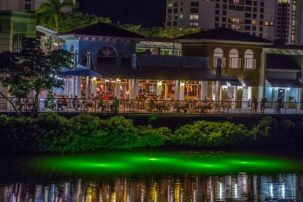 At the end of your meal, the desserts of Key Lime Pie, Fruits of the Forest Pie, and the Chunky Chocolate Walnut Brownie will be calling your name. The Village Pub and their friendly staff can't wait to serve you amongst the incredible Bay views this Christmas Eve. The Village Pub is located on the north side of The Village Shops in suite 606.