Save The Dates for the "Wine Around The Water" Summer Series at The Village Shops on Venetian Bay!
Last year's Wine Around The Water event was such a hit that The Village Shops decided to add two to the 2019 events calendar for twice the fun! It doesn't matter the occasion – girls night, date night, or a just because – wine, waterfront views, and philanthropy are the perfect trio for a Naples night out.
Join The Village Shops on Saturday, August 24th and Saturday, September 28th, from 5:00-7:00pm for "Wine Around The Water". For only $20, enjoy international wines from 20+ of The Village's beloved retailers and restaurants while shopping great deals and taking in the breathtaking views of the Venetian Bay. Included in your $20 donation is a Village Shops' wine glass, passport, and discount card to the six sparkling waterfront restaurants. 100% of ticket sales will be donated to charity.
This year's participating retailers and restaurants include All About April, Bayside Seafood Grill & Bar, Casanova Boutique, Casanova Venetian Glass & Art, DanaTyler, Expedia CruiseShipCenters, Fabec-Young & Co., Fish Restaurant, H.T. Chittum & Co., Lux Boutique, M Waterfront Grille, MiraMare Ristorante, Mondo Uomo, Panache, Patchington, Pratt's Shoe Salon, Robert of Philadelphia, Sperry/Natural Comfort Footwear, Sukie's Wine Shop, T-Michaels Steak & Lobster House, The b. store, The Village Pub, Tommy Bahama, Whispers of Naples, and Wildflower Boutique.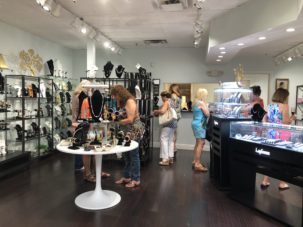 Save The Dates:
Saturday, August 24th from 5-7pm
Saturday, September 28th from 5-7pm
When arriving at the event, the registration tent will be located on the north side of The Village Shops in front of Everything But Water. The Village Shops on Venetian Bay is located at 4200 Gulf Shore Blvd North Naples, Florida 34103 and can be reached by calling 239-261-6100.
Visit and follow the "Wine Around The Water" Facebook events pages to receive event updates and reminder notifications.
August 24th– https://www.facebook.com/events/862823350746692/
September 28th– https://www.facebook.com/events/464068207739387/