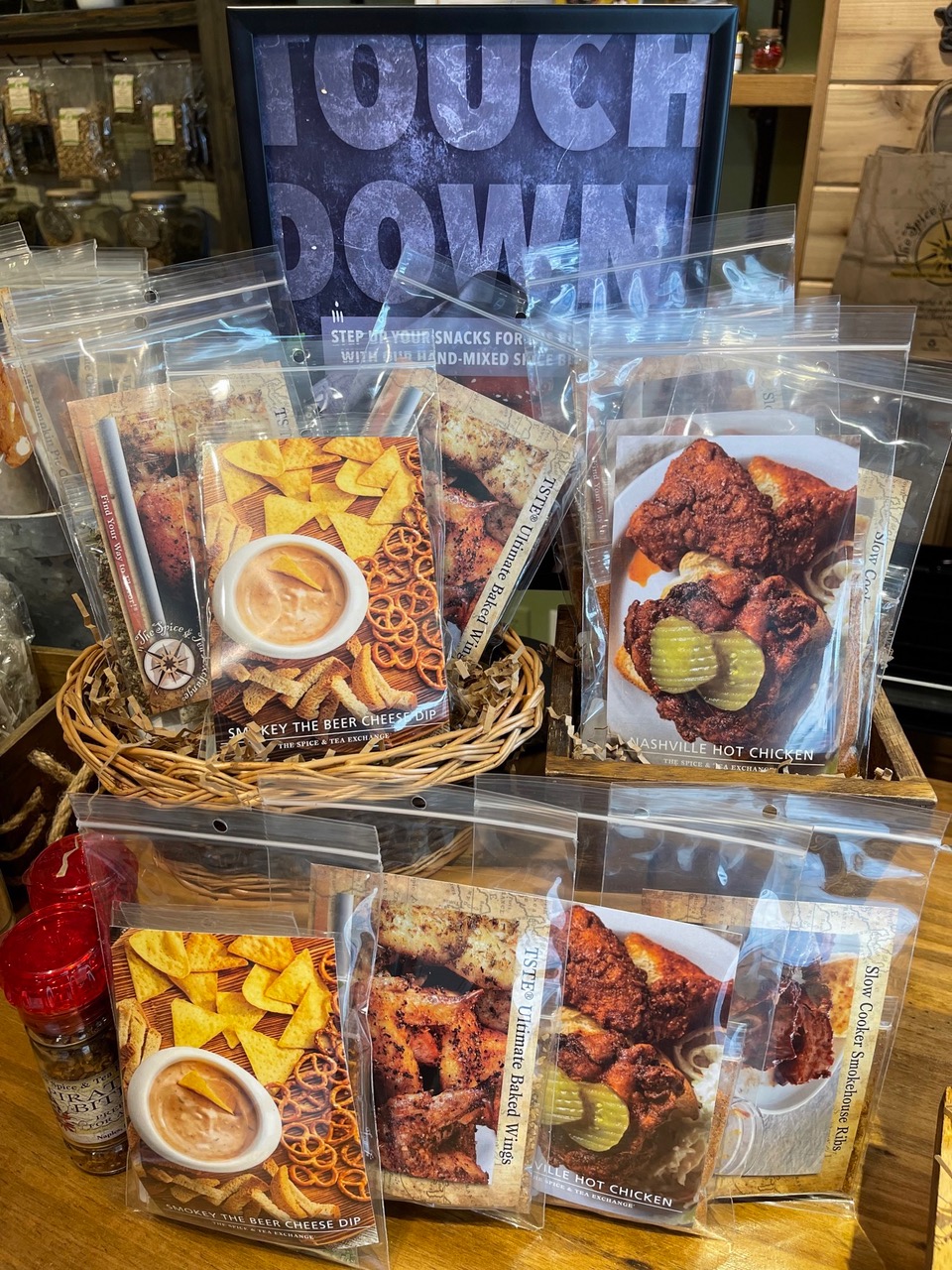 Score Big this Football Season with a Visit to The Spice & Tea Exchange®!
We are touching down into football season! Many people get together to cheer on their favorite team, while some only show up to the tailgate for the food. I mean, can you blame them? Especially when the hostess has a game plan in place to stop by The Spice & Tea Exchange® prior to the party.
"What's on the menu?" you might ask. Below is a list of The Spice & Tea Exchange®'s first-round picks! With each of these game day appetizer and entrées, The Spice & Tea Exchange® has a recipe bundle available for purchase including a recipe card and all the seasonings needed to bring these meal ideas from the packaging to your plate!
Slow Cooker Smokehouse Ribs
Smokehouse Rub adds the essences of a traditional Midwest barbecue to this rib sauce. Made in a slow cooker, these ribs are tender, juicy, and full of tangy flavor!
Ultimate Baked Wings

Three tasty blends: Jamaican Jerk, Tailgater's and Coastal, allow you to make impressive chicken wings. Entertain and satisfy your guests with this easy recipe! They'll never know it took less than five minutes to prepare. Add a grind of Pirate's Bite to amp up the heat factor!
Nashville Hot Chicken

This iconic Nashville Hot Chicken is made with "Nashville Hot" sauce drizzled over fried chicken (and served over white bread with pickle chips). While most blends are over-the-top spicy, ours starts fiery but is tempered with honey, smokey paprika, and a mustard tang that tingles your lips in a way that leaves you wanting one more bite.
Smokey the Beer Cheese Dip

When beer and cheese combine it's a match made in snacking heaven. Flavors get elevated by the subtle smokiness of Backwoods Hickory Rub and the tang of ground mustard. Serve hot off the stove as a melty sauce – or cool and serve chilled as a dip or spread. It goes with everything – soft or crunchy pretzels, tortilla or potato chips, crusty bread, veggie sticks, apple slices, sandwiches, and so much more.
From September 1st through September 30th, stop in and shop The Spice & Tea Exchange®'s game day products. The shop is located on the north side of The Village Shops in suite 209. For more information call the shop at 239-776-7730. Stay up-to-date on what is going on in store by following The Spice & Tea Exchange® on Facebook (@TSTENaples) and Instagram (@spiceandtea.naples).