THE VILLAGE SHOPS: SHOP · EAT · SPEND · ENJOY LOCAL
Naples, Florida is home to many and a beautiful place to visit for so many others. This laid back and relaxed city, perched on the Gulf of Mexico in Southwest Florida, is well-known for its high-end shopping, sophisticated dining, and white sandy beaches. These three attractions and dozens more are what makes Naples a desired destination to foodies, fashionistas, nature lovers, beach aficionados, art experts, wine connoisseurs, and the list goes on!
When taking time to reflect on Naples ranking as a top destination in the United States, it becomes obvious that the unique character of this quaint community is defined in large by the businesses that reside here. The Village Shops is proud to be included in this unmatched business lineup, housing over 40 boutiques, six sparkling waterfront restaurants, and a number of salons and services.
One day spent on the Bay, you'll quickly discover the uniqueness of shopping, eating, spending, and enjoying local at The Village Shops. At The Village, you are guaranteed a one-of-a-kind experience regardless of whether your visit pertains to fashion, services, food, scenery, or all of the above. The Village Shops tenants cater to the community and always go the extra mile for local and visiting customers.
Every day spent on the Bay is a new experience filled with incredible waterfront views. At The Village Shops you can always anticipate excitement from fabulous new styles hitting the boutique shelves to tasty new items being added to the restaurant menus, and so much more! For a full directory listing of all retailers, restaurants, salons, spas, and services at The Village Shops, visit https://www.venetianvillage.com/directory/.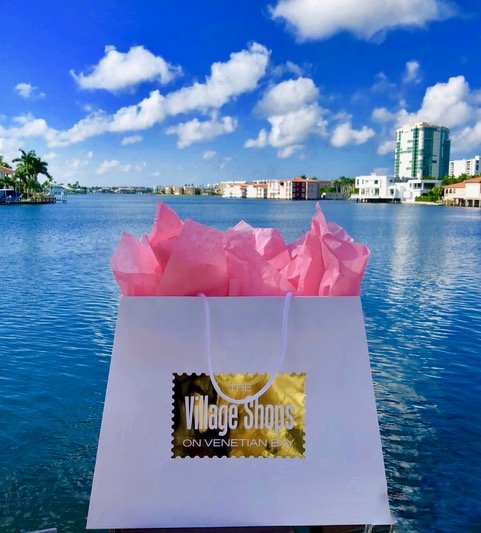 Also speaking of excitement…while you're at The Village Shops, also known as Naples North Pole, be sure to explore to see all the holiday décor – garland wrapped walkways, a beautiful display of over 100,000 twinkling lights, glowing wrapped palm trees, wreaths galore, and so much more! The Village Shops on Venetian Bay is located at 4200 Gulf Shore Blvd North Naples, Florida 34103 and can be reached by calling 239-261-6100.