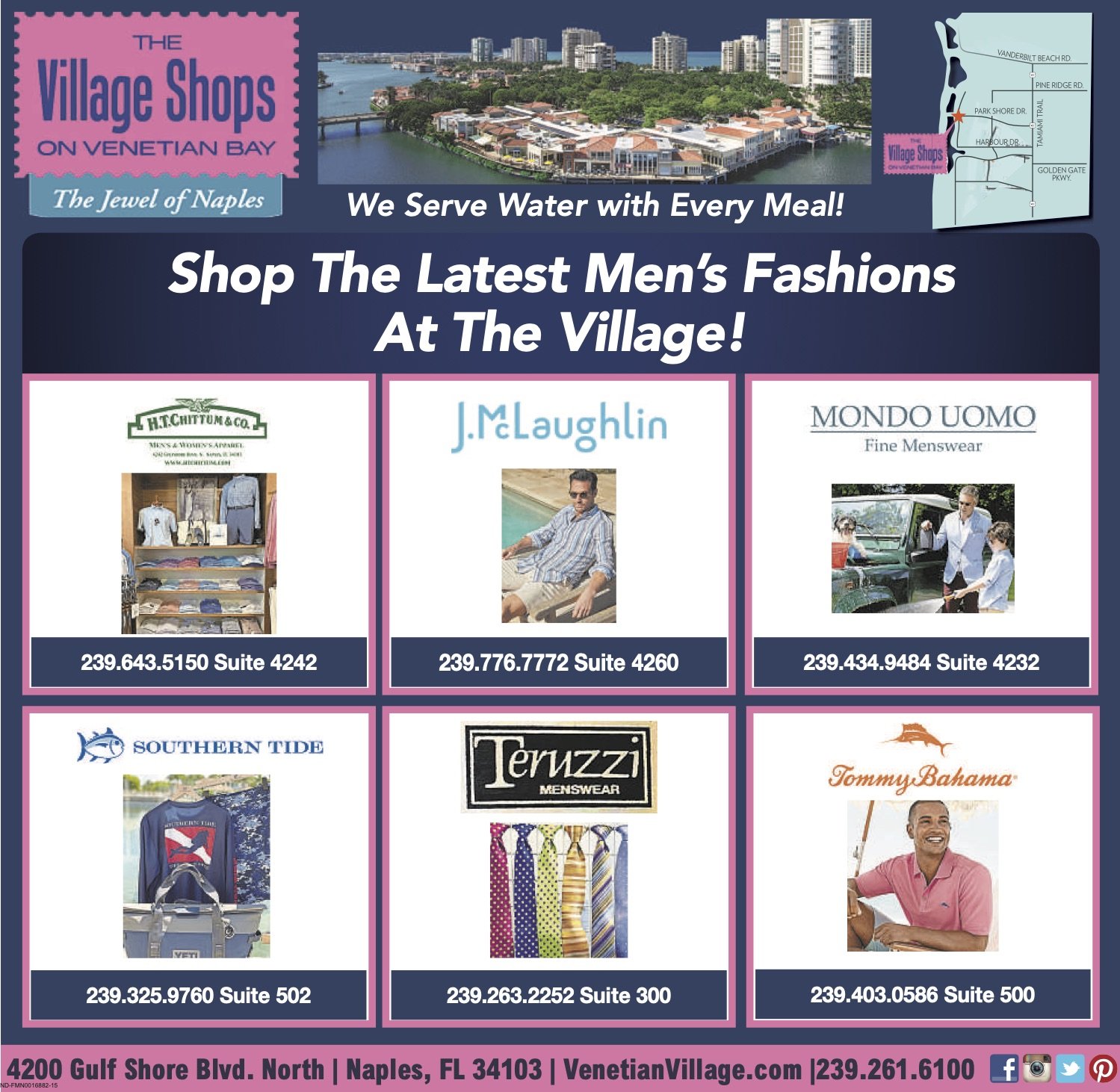 Shop the Latest Men's Fashions at The Village!
To all the men out there…let's talk clothing! When it comes to what's in your closet, we know your focus may simply be centered around good fit, high quality, and versatile pieces. The Village Shops men's fashion retailers have you covered (head-to-toe) with these three essential clothing qualities and so many more!
What does your day-to-day consist of? Throwing a line in the water, talking business in the board room, and/or teeing off on the golf course? Regardless of which, you're in luck because statement swimwear, snazzy business suits, and comfortable casualwear are all fashion categories that can be found at The Village Shops.See below for your go-to Village guide for men's clothing retailers to help you achieve good fit, high quality, and versatile clothing with a fashionable flare!
H.T. Chittum & Co.
Since 1995, H.T. Chittum & Co. has been a one stop shop for men's casual clothing, resort wear and accessories. When you shop at H.T. Chittum, you find timeless fashions for men and they carry established designers including Peter Millar, Johnnie-O, Luchiano Visconti, Tori Richard, and more. H.T. Chittum & Co. is readily available to assist you in finding the perfect polo and slacks for a day on the golf course. This shop is located on the south side of The Village Shops in suite 4242. For more information on styles and sizes, call H.T. Chittum at 239-643-5150.
J.McLaughlin
J.McLaughlin's clothing is rooted in the tradition of sports, work, and play. The J.McLaughlin menswear clothing racks are filled with bold prints and bright colors to help express personal style through their offering of pants, shorts, button downs, swim trunks, and blazers. When shopping at J.McLaughlin, you'll also find a collection of all-purpose polos in both cotton and linen, solid and stripes – made to be worn all day, styled any way! J.McLaughlin is located on the south side of The Village Shops in suite 4260 and can be reached at 239-776-7772.
Mondo Uomo

 
Mondo Uomo is a premier leader in men's clothing, serving the Naples market for over 20 years. The men's retailer is unparalleled in Naples due to its timeless fashions and exceptional customer service. Mondo Uomo carries a wide selection of designer brands including Alberto, St. Croix, Bugatchi, Stenstrom, and more. Each style is complimented with the perfect accessories to finish your look including unique ties, neckwear, and cuff links. From clothing to accessories, Mondo Uomo is sure to create a tailored look just for you. Shop Mondo's menswear on the south side of The Village Shops in suite 4232. Call 239-434-9484 for more information.
Southern Tide
Southern Tide is all about the classic American lifestyle. From wardrobe to personality, Southern Tide doesn't shy away from making a statement. Step in store and find everything from unique button ups and original t-shirts to vibrant pullover sweaters and novelty shorts. Southern Tide is located on the north side of The Village Shops in suite 502. Stop in the shop to see the hue of blue representing the coastal lifestyle apparel that embodies a Southern state of mind and adventurous spirit. If you have your eye on a particular piece of clothing, call 239-234-5794 for more information.
Teruzzi 
Teruzzi has been recognized throughout the years as five-star men's clothing boutique. Teruzzi offers a wide assortment of menswear, business, and casual wear including sports coats, shoes, belts and button downs. Over their 30-year existence at The Village Shops, Teruzzi has gained a loyal customer base, everything from businessmen looking for work suits to the active men looking for casual button downs. The men's shop goes above and beyond to ensure the perfect outfit is within reach. Call 239-263-2252 or stop in, located on the north side of The Village in suite 300.
Tommy Bahama
Get that island feeling – no island required. Tommy Bahama encourages you to live spontaneously and relax in style, no matter where you are. Explore the latest styles and embrace the Tommy Bahama feeling of adventure and total relaxation with touches of paradise. Tommy Bahama carries a wide assortment of menswear, from casual and comfortable to dressy and formal. Tommy Bahama makes dressing for the moment easy, no matter what that moment may be. Start "Living The Island Life" and head on over to Tommy Bahama, located on the north side of The Village Shops in suite 500. For more information, call the store at 239-403-0586.