TGIF! Celebrate with Dinner at The Village Shops!
The weekend is here! Date night, girl's night, family night…no matter the occasion, The Village Shops restaurants are ready to serve up delicious food and waterfront views. When Friday rolls around, the last thing you want to do after a long week is cook. We don't blame you, so head on down to the Bay for a very relaxing Friday!
Contemporary, Italian, seafood…what are you in the mood for? At The Village, there are six menus to choose from with endless options of appetizers, entrées, sides, desserts, and cocktails. Put away that picnic basket and beach blanket, because each restaurant has a front row seat for the evening sunset. The only difficult decision is which waterfront table you want to sit at!
Dinner is almost served. View the menu for each Village restaurant from the below websites, make your reservation, and bon appétit! While you're planning ahead, be sure to also stop over to Ben & Jerry's website to pre-plan the flavors of your evening ice cream cone. With 30+ flavors to choose from, you'll definitely need a head start! By popular opinion, a loaded waffle cone topped with sprinkles from Naples' only Ben & Jerry's is the cherry on top of an already spectacular Friday!
Bayside Seafood Grill & Bar
Ben & Jerry's
Fish Restaurant
MiraMare Ristorante
M Waterfront Grille
The Village Pub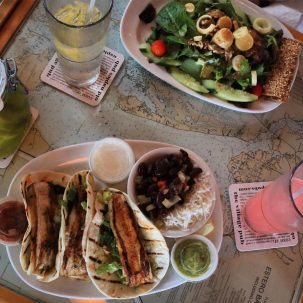 T-Michaels Steak & Lobster