The 2019 Concierge Holiday Walk at The Village Shops on Venetian Bay!
On Monday, November 18th, The Village Shops hosted their annual Holiday Walk for the Southwest Florida Concierge and Guest Services Association. The Holiday Walk is designed to express profound appreciation for the Naples concierges and the tireless work they perform throughout the year to ensure satisfaction of tourists and local businesses. This group is the go-to men and women who send hundreds of people to The Village Shops each year for top notch shopping and dining.
The evening of hors d'oeuvres and cocktails began at Bayside Seafood Grill & Bar. As the concierges checked in, they were greeted with Village Shops goodie bags filled with gifts from The Village and exclusive offers to the retailers and restaurants.
The concierges, one by one, made their way out to Bayside's Upper Deck, overlooking the Bay, where they mixed and mingled and enjoyed wine and appetizers. The weather could not have been more perfect, situated in the 70's, with a hint of a sunset overlooking the water.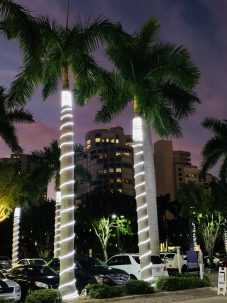 The next stop was T-Michaels Steak & Lobster House. Owner, Ty Ernst, greeted the concierges at the door, as the hostess showed them to their seats in the dining area. T-Michaels served wine, specialty cocktails, and signature shrimp.
MiraMare Ristorante was the third stop on the tour. The concierges filed in as the servers brought out specialty pizzas, bruschetta, and wine. The plates and glasses were clear within minutes and off to stop four!
The ladies and gentleman headed to the north side of The Village where they were generously greeted at The Village Pub with gift certificates to add to the goodie bags. The excitement was evident, as each concierge looked forward to coming back to enjoy pub grub at the friendly, neighborhood hotspot where they send many guests.
Next up was Fish Restaurant! Fish served shrimp and crab cakes alongside the water, illuminated by lights and decorated with beautiful holiday garland. The chatter and laughter continued before heading to the sixth and final stop.
Last but certainly not least was M Waterfront Grille, closing out the night with decadent desserts and specialty cocktails. The cinnamon donut holes with cream cheese frosting were to die for! M Waterfront Grille also provided holiday goodie bags for each guest.
The Village Shops and the six sparkling waterfront restaurants were honored to be able to create a fun-filled night for the hardworking men and women in the Southwest Florida Concierge and Guest Services Association. The Holiday Walk was a night to remember and The Village Shops is looking forward to doing it again next year!