The Annual Spring Sidewalk Sale was a Shopping Success!
Naples shoppers came, saw, and conquered at the Annual Spring Sidewalk Sale this past weekend, walking away with unbeatable discounts and shopping bags full of merchandise. With 20+ participating retailers and rows and rows of shopping racks and tables there was A LOT to conquer and options for everybody! Each of the retailer's tables and racks had an assortment of clothing, shoes, and accessories in a plethora of colors, patterns, and styles keeping The Village buzzing all weekend long!
As the Sidewalk Sale commenced each morning, The Village visitors had the right idea in mind…that caffeine was a necessity. Shoppers anticipated the many tables and clothing racks they needed to visit, first stopping at Le Petit French Cafe for coffee, freshly baked pastries, and of course of Naples' best Crepes. Yum!
The Naples spring season was showing off for the Sidewalk Sale with perfect weather all four days and the spring showers held off until after the Sidewalk Sale came to an end. Perfect weather (and unbeatable savings) brought the masses – walkers, joggers, bikers, boaters, and friendly-faced shoppers – to The Village Shops enjoying the sunshine glistening off The Venetian Bay while walking from shop to shop. The inviting and unique Village boutiques continued to bring the views to you, inside the shops, with ceiling to floor glass windows overlooking the water.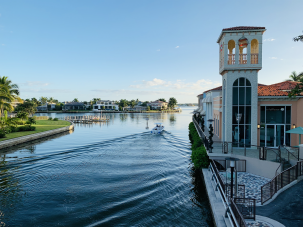 The soundtrack of the weekend was spectacular with birds chirping, friendly chatter, laughter and splashing from the north fountain, rustling of the water as boats passed by, and of course the clanking of hangers as shoppers browsed the endless racks snagging that perfect find. We know that sound all too well, the sweet sound of savings!
Before you knew it, day turned into night, the shopping bags were piled up, and the six sparkling waterfront restaurants were filled with hungry shoppers. Delectable dining, waterfront views, and an ice cream cone from Naples' only Ben & Jerry's became the weekend's perfect trio to relax and unwind after a successful shopping day on the Bay!
If you didn't make it to the Spring Sidewalk Sale this year, it's an annual event so we look forward to seeing you next year! When 2022 rolls around, keep an eye out for this sale of the season, happening every year at the end of the Naples season! To stay up-to-date on Village happenings and events, visit The Village Shops website at https://www.venetianvillage.com.