The Great American Takeout at The Village Shops!
Today, March 24, 2020, restaurants nationwide are participating in The Great American Takeout, an effort to support the restaurant industry, which has been greatly affected by the COVID -19 pandemic. The Great American Takeout is a movement asking all Americans, with the means to order delivery or pick-up meals, to show support for the restaurant industry. Showing support for our local restaurants while at the same time enjoying a delicious lunch or dinner is a win win for everyone!
The Village Shops restaurants are all participating in The Great American Takeout and providing curbside pick-up, delivery, and to go orders.In order to quickly and safely accommodate these services, the restaurants have cultivated revised menus for all orders and are creating designated pick-up locations when on property. Be on the lookout for specified signage for each restaurant with their logos and telephone numbers pointing out the parking location for curbside pick-up services.
To contact the restaurants directly for meal ordering and for more information on menus, hours, pick-ups, etc., view the below information and visit the following restaurant websites.
Bayside Seafood Grill & Bar
Fish Restaurant
Le Petit French Café
MiraMare Ristorante
M-Waterfront Grille
The Village Pub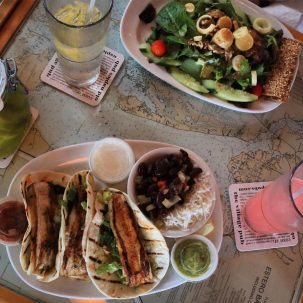 T-Michaels Steak & Lobster