The Sun is Shining, Time to Enjoy Outdoor Shopping and Dining at The Village Shops!
In 1970, Florida officially adopted the nickname the "Sunshine State", referencing the great measure of sunshine that falls upon the state each year. Spend a day in Naples and it is easy to see how the state got its name. For those of us that are lucky enough to call southwest Florida home, as well as those that make annual visits, it's no secret that Naples, Florida is paradise and The Village Shops is a slice of that paradise!
A day spent on the Bay, you'll see that The Village Shops is the epitome of paradise, welcoming guests with palm trees and brimming with top-notch restaurants, a lineup of 40+ one-of-a-kind boutiques, a quaint French Café, Naples' only Ben & Jerry's, 360-degree views you just can't refuse, and the list goes on.
There is an unspoken rule that when the sun is shining, it is the perfect time for shopping and dining at The Village Shops. We are here to confirm that! No matter the time of day, the Village views are always extraordinary and unforgettable. This includes the morning sunrise views while sipping your coffee and eating Naples' best crepes from Le Petit French Café, the afternoon sunshine while strolling from shop to shop and watching children splash in the north fountain, as well as the post-dinner, nightly sunsets views while delighting in an ice cream from Naples' only Ben & Jerry's.
Speaking of dining, the restaurant experience at The Village Shops is unparalleled. When eating at any of the six sparkling waterfront restaurants, expect plated perfection and panoramic views with ample patio seating options. It's no surprise that the reservations flood in as freely as the Florida sunshine!
The same goes for shopping. Enjoy exceptional sights while strolling from shop to shop and even while browsing the racks of designer products inside the boutiques. We've said it before and we will say it again, there is something for everyone! View the Village directory https://www.venetianvillage.com/shopping/ packed with men's, women's, and children's fashions, accessories, footwear, swimwear, gifts, home décor, and so much more!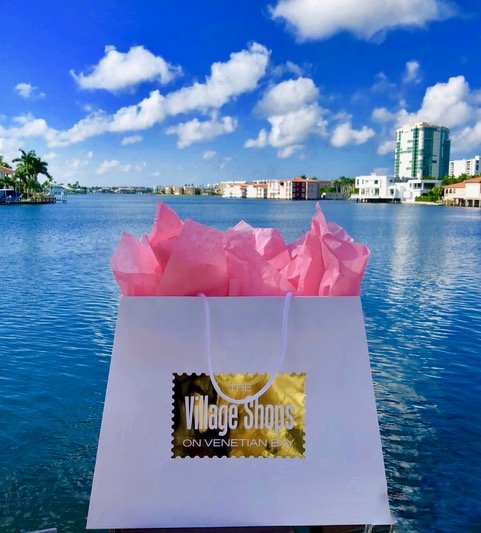 Experience for yourself the beauty of the Bay on a sun-shiny Naples day! The Village Shops on Venetian Bay is located at 4200 Gulf Shore Blvd North Naples, Florida 34103 and can be reached by calling 239-261-6100. To stay up-to-date on the latest happenings, visit The Village Shops website at https://www.venetianvillage.com and Facebook/Instagram/TikTok pages @VenetianVillage.