The Village School of Naples Spread Christmas Cheer Around The Village Shops with a Special Choral Performance!
On Thursday, December 5th, Naples' tallest Christmas tree glistening in the night sky served as a meeting point for The Village School choir as they prepared to take the stage for a special Christmas performance. The evening could not have been more perfect with weather situated in the 70's and a sunset lowering over The Village Shops.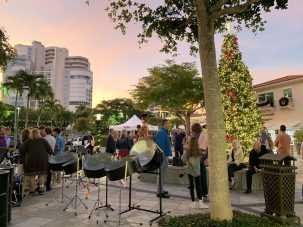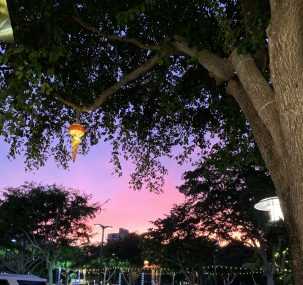 Promptly at 6:00pm, the lower and middle school, composed of children from 5th grade to 8th grade, lined up ready to take the stage. With direction from the Choir Director, the uniformed students beautifully belted out notes to popular hymns. The fully engaged audience of parents and grandparents circled around getting front row spots to watch their loved ones perform.  After several songs, the 5th-8th graders concluded their performance and exited the stage, preparing the way for the solos of two tremendously talented high school seniors.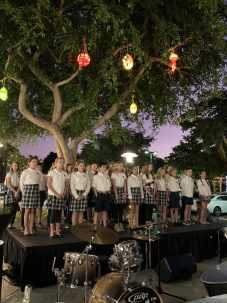 First up, Lauren Tayon wowed the audience with her strong stage presence and beautiful rendition of "It's the Most Wonderful Time of the Year".
The second soloist, Lucy Tarpley, had everyone in the audience singing and dancing along to "Rockin' Around The Christmas Tree".
Closing out the show, the high school steel drum band took stance in front of their drums performing several numbers including popular Christmas songs, Little Mermaid's "Under The Sea", and even a Van Morrison classic "Brown Eyed Girl". Decked out in Hawaiian shirts and leis, the band teleported the audience to a Christmas in the Caribbean.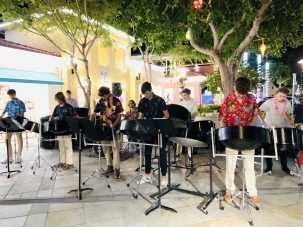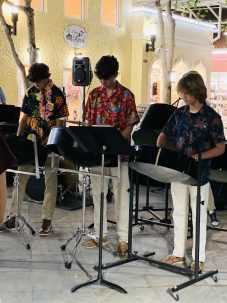 The Village School Choral Performance is always a much-anticipated event each holiday season. The Village Shops is looking forward to having the talented Music Department back again next year!