The Village Shops and The Spice & Tea Exchange® Gifted Some Florida Sunshine to One Lucky Facebook Giveaway Winner! 
April 1st through April 8th, The Village Shops and our newest store, The Spice & Tea Exchange®, partnered up for a Facebook giveaway to provide one lucky follower with a Florida Sunshine gift basket.
During this time, The Village Shops Facebook followers liked, commented, and shared the giveaway post to be entered to win items from The Spice & Tea Exchange®'s recently released Florida Sunshine Collection. This giveaway gift basket included the Florida Sunshine Tea Time Trio encompassed of the Florida Sunshine Tea, Sugar, and Candle plus a Florida Sunshine Salt Grinder, Cookie Recipe Bundle, and a Mesh Scissor Infuser.
By Thursday, April 8th, over 150 entrees were submitted and one lucky winner, Jodie, was announced!  Jodie is now well on her way to a bright sunshine-y day at The Village Shops as she picks up her basket from The Spice & Tea Exchange® and shops around the beautiful store, reminiscent of an 18th Century Trading Post.
Not only is the store beautiful, but it is packed with an abundance of products to choose from including seasoning blends, loose-leaf teas, fine salts, flavored sugars, fresh spices, freshly steeped tea to go, gift bundles, soy candles, and accessories.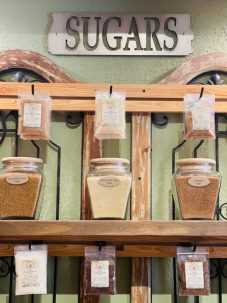 Did you miss out on the giveaway but still looking for a way to brighten your day? Look no further than The Spice & Tea Exchange®! They are ready to send sunshine your way with the Florida Sunshine Collection that has officially hit the shelves in-store and is ready to be shopped.
This Florida Sunshine Collection includes:
Florida Sunshine Salt Spice Blend, hand-mixed with fresh orange, lemon and lime zest. Wonderfully light and refreshing salt perfect for seasoning seafood, chicken, veggies, and salads.
Florida Sunshine Tea (better known as sunshine in a cup)! This white and oolong tea blend has uplifting floral and citrus flavors and is terrific iced or hot any time of day.
Florida Sunshine Sugar with notes of orange and lemon fruits and delicate rose petals. Try this sugar on cold fruit desserts, cobblers, and ice creams.
The Florida Sunshine Artisan Soy Candle with a fresh citrusy scent. Shine on with the lively aromas of the Sunshine State: oranges, lemons, and limes! Double cotton wick, hand poured, and made right here in Florida.
The Florida Sunshine Cookies Recipe, developed by the Naples store. All the sunshine you need to make this original recipe is included in The Spice & Tea Exchange®'s exclusive recipe bundle. Bake a little sunshine!
To shop the full Florida Sunshine Collection and other flavorful products, visit The Spice & Tea Exchange® on the north side of The Village Shops in Suite 209! For more information, call the shop at 239-776-7730 or visit their website at https://www.spiceandtea.com.