THE VILLAGE SHOPS ARE OPEN!
The Village Shops are open for business and the updated hours are as follows:
Monday-Saturday 10am-6pm
Sunday 12pm-6pm
Restaurant hours vary by restaurant and in compliance with guidelines set by local and national authorities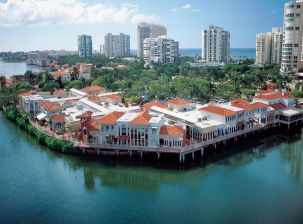 With the business landscape shifting as a result of COVID-19, a large concern arises for the locally owned businesses and how to maintain a sense of normalcy when the new normal is lessening hours and closing doors. Now more than ever, the community needs to work together to support these local businesses and the precautions they are taking to improve the health and safety of customers and employees.
Small businesses are the backbone of Naples, not only by employing hundreds of people each year but through serving as an overall driver of tourism throughout season with their unique offerings and delectable menus. Many of The Village retail shops and restaurants are remaining open to continue to serve the local community. If you have had your eye on the perfect sundress or gorgeous pair of shoes, don't hesitate to stop in store and purchase or call up your go-to shop and place an order for curbside pick-up. The stores support and cherish their loyal customers and will be happy to help you shop without ever leaving the comfort of your car! Be sure to give the store of your choice a friendly call ahead for guaranteed accommodations.
These local Village businesses understand that some customers may not be able to show support through their patronage in person, but it is important to employ extra initiatives to show support for these businesses that help make Naples more unique and special each and every day. You can do so through the purchase of gift cards, online shopping, curbside shopping, dining in, and to-go ordering. Head over to The Village Shops website at www.venetianvillage.com. On the "Directory" tab there is a full listing of Village retailers and restaurants. View your favorite local shop or restaurant's directory page with linking to their individual website to purchase a gift card or an outfit to debut when Naples returns to normal or skip cooking lunch or dinner and stop in or place a to go order from one of our six sparkling waterfront restaurants.
We also understand that groceries are extremely scarce and "social distancing" goes out the window when scouring the isles to buy anything that is left on the shelves. The six Village restaurants are taking the stress out of grocery shopping and cooking all together by allowing dining in at the restaurant as well as the opportunity to grab your favorite meals on the go with to go ordering or curbside pick-up. If you don't want to miss out on your favorite waterfront views, the restaurants still have on-site dining available, following the guidelines laid out by the CDC including placing a greater distance between tables, operating at 50% capacity, and increased sanitation measures.
Bayside Seafood Grill & Bar 239-649-5552
Fish Restaurant 239-263-3474
MiraMare Ristorante 239-430-6273
M-Waterfront Grille 239-263-4421
The Village Pub 239-262-2707
T-Michaels Steak & Lobster 239-261-0622
During these difficult times, we hope you and your families stay safe and healthy. Thank you for your continued loyalty to The Village Shops!