The Village Shops Concluded a Magical and Merry Schedule of Christmas Events!
On Christmas Eve, The Village Shops on Venetian Bay concluded another magical holiday season. For a full month, Naples North Pole was constantly buzzing with excitement, providing nothing short of a enchanted experience with music, entertainment, shopping, dining, ice cream, and of course a display of over 100,000 Christmas lights.
On Friday, November 29th, the annual Grand Illuminations event kicked off the holiday season with a tree lighting ceremony. Families near and far gathered to take in the breathtaking views of Naples tallest Christmas tree as it illuminated the night sky and stayed throughout the event to visit and take complimentary photos with Santa.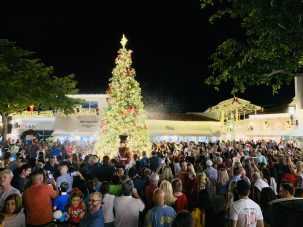 Santa could always be found in his big red chair in front of the Christmas tree. He was present at nine different holiday events and always took the time to visit with children and review Christmas lists before taking photos. Mrs. Claus could also be found at every event in her Winter Wonderland tent on the south side of The Village Shops. Mrs. Claus read stories and colored with all the little visitors.
The fun continued! Throughout the month of December, The Village Shops had many special vocal performances from the Naples Carolers, The Village School Choir, and Groove Culture Music School. As the popular saying goes…"The best way to spread Christmas cheer is singing loud for all to hear". These visitors did just that, spreading Christmas cheer through the gift of song.
Along with vocal performances, The Village Shops also hosted several dance groups for special Christmas performances. Dance Arts by Maria and Backstage Dance Academy brought their talents to the Holiday on the Bay events to get the crowd Rockin' Around The Christmas tree!
Adding to the excitement, Kowiachobee Animal Preserve came out to every Holiday on the Bay event bringing along their friendly furry and reptile guests. Tigers, snakes, alligators, turtles, and skunks all joined in the fun, interacting and taking photos with the guests, even sneaking their own photo op with Santa Claus.
At the end of every event the forecast always called for snow flurries. On both the north and south side of The Village Shops, snowflakes fell from the sky in piles creating a picturesque scene while children played and gathered the many falling flakes!
Thank you to all who came out and celebrated the holiday season at The Village Shops. We look forward to seeing you next year in Naples' North Pole!