The Village Shops Welcomes The Spice & Tea Exchange®!
The Village Shops on Venetian Bay welcomes our newest shop, The Spice & Tea Exchange®. Discover the Flavor of Naples! The Spice & Tea Exchange® offers food lovers, chefs, and tea enthusiasts a unique shopping experience filled with culinary delights.
Founded in 2008, The Spice & Tea Exchange® focuses on a passion for life and food. Their mission statement "Creating & sharing the experience of a more flavorful life," is the cornerstone of this Florida based company which strives to provide guests with quality products and flavorful memories.
Inside, the store's interior is reminiscent of an 18th Century Trading Post with apothecary-style jars lining the shelves. It's an interactive shopping experience where guests are encouraged to "smell the spices," and watch custom seasoning blends be mixed in the store.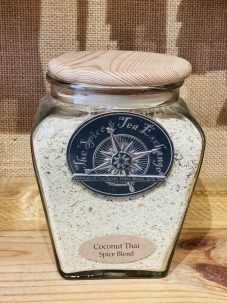 Visitors have an abundance of products to choose from including seasoning blends for beef, chicken, pork, pasta, and curry dishes, loose-leaf teas, fine salts, flavored sugars, and fresh spices. The Spice & Tea Exchange® also offers freshly steeped tea to go, gift bundles, soy candles and accessories to complement their product line.
Meet, or rediscover, The Spice & Tea Exchange® of Naples at their grand opening event at The Village Shops. The Grand Opening is on Saturday, February 13th from 10:00am–6:00pm! Tea enthusiasts, food lovers and home chefs, this is the place for you. Don't miss their Florida Sunshine infused salt grinder ranked the number one food gift to take home by VISIT FLORIDA. Saturday only there will be twenty $5 Spice Tickets hidden throughout the store. Find one and apply it to your same day purchase!
The Spice & Tea Exchange® at The Village Shops, located on the north side of The Village Shops in suite 209, is locally owned and operated by Kathleen McGowan. For more information call the shop at (239) 776-7730 or visit their website at https://www.spiceandtea.com. Also, stay up-to-date on what is going on in store by following The Spice & Tea Exchange® on Facebook (@TSTENaples) and Instagram (@spiceandtea.naples).