There is no Better Way to Spend Valentine's Day than on the Bay!
The calendar has flipped to February and we are already feeling the love! We can't wait for a very important date…Valentine's Day, which is only nine days away and cupid is shooting arrows all over The Village Shops!
The beauty of Valentine's Day is anyone can celebrate! Planning a dinner date with your significant other? Perfect! The Village Shops has six sparkling waterfront restaurants to choose from all which include spectacular food and views.
Spending the day shopping with your gal-entines? Sounds full of fun! Be sure you start your day with a caffeine fix from Le Petit French Café because you'll need it to fuel through a day of shopping at the 40+ unique boutiques and stacking up the shopping bags.
If Valentine's Day means a day on the Bay with family, you better plan for an end of the evening treat at Naples' only Ben & Jerry's where there are flavors galore and so much more!
There are no rules on how to spend Valentine's Day on the Bay so whether your day includes crepes and coffee, an ice cream cone, a great bottle of wine, delectable dining, waterfront views, or all of the above, The Village Shops is ready to welcome you for a very special day!
Also, on Valentine's Day from 5:00pm-8:00pm, you can enjoy the soothing sounds from The Coastal Harpist, Christian. Christian is a well-known harpist in the Naples area and will have you stopping in your tracks on your way to dinner for a listen! The Coastal Harpist will be located on the north side of The Village Shops near the fountains.
Make your reservation today to dine with your Valentine!
Bayside Seafood Grill & Bar 239-649-5552, South Village suite 4270
Fish Restaurant, 239-263-3474, North Village suite 304
MiraMare Ristorante, 239-430-6273, South Village suite 4236
M-Waterfront Grille, 239-263-4421, North Village suite 104
The Village Pub, 239-262-2707, North Village suite 606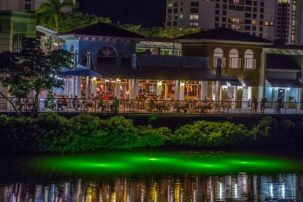 T-Michaels Steak & Lobster, 239-261-0622, South Village suite 4050