Three Remaining Holiday on the Bay Events at The Village Shops!
The Village Shops on Venetian Bay has transformed into a magical Winter Wonderland this holiday season and will dazzle you with a display over 100,000 Christmas lights! From the drive down Park Shore Boulevard, illuminated by the beautifully wrapped palm trees to the lights, ribbon, and garland perfectly draped on the Village sign to warmly welcome you to Naples North Pole.
Once you pass The Village sign, the sight of Naples' tallest Christmas tree will stop you in your tracks! Standing tall on the North side of The Village Shops, decorated with dozen of ornaments and lights, the Christmas tree serves as a reminder that Santa is close by!
Every Saturday remaining, now through Christmas from 5pm-8pm, as well as Christmas Eve from 2-5pm, Santa will be making a special appearance to visit with family and friends before heading back to the North Pole to prepare presents! Santa will be visiting with all the little boys and girls reviewing Christmas Wish Lists and taking complimentary photos. Each guest will receive complimentary printed and emailed photos as a keepsake of their day on the Bay.
Holiday On The Bay Remaining Dates/Times:
Saturday, December 14 | 5pm to 8pm
Saturday, December 21 | 5pm to 8pm
Tuesday, December 24 | 2pm to 5pm
Santa's trusty right hand, Mrs. Claus, will also be present at the Holiday on the Bay events. Mrs. Claus will be located on the south side of The Village Shops in her Christmas tent reading stories and coloring with the children.
Holiday on the Bay will also feature appearances and performances from talented local dance studios, the Dickens Holiday Carolers, Kylie Gust, and the furry and reptile friends from Kowiachobee Animal Preserve.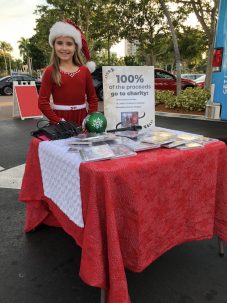 A Winter Wonderland wouldn't be complete without snow! Be sure to stick around each evening for the much-anticipated snow shows, starting at 7pm on Saturdays (4pm on December 24th). The Christmas tree will be sparkling in the night sky as snowflakes gracefully fall onto the branches and all around. The snow shows will take place on both the north and south sides of The Village Shops.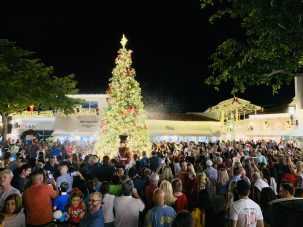 Christmas is approaching quickly! There are only 12 shopping days left! While at Holiday on the Bay, stop in your favorite Village shops and find that perfect gift to cross off everyone on your list!